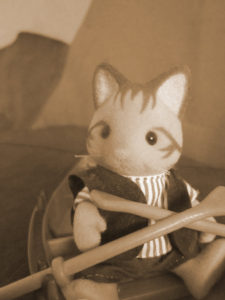 Dandelion Creek was first discovered by Sir Edward Beaman in 1832, who found Dandelion Creek by accident when he was out fishing on a river and fell asleep, waking up shortly afterwards and finding himself and his canoe ashore in a beautiful and natural forest of trees with a lot of dandelions growing on a small clearing nearby. He fell in love with the place and named it Dandelion Creek, after the dandelions and the creek.
A year later, he and his wife Isobella and daughter Anne moved there and Anne discovered a crystal clear lake which the river ran into. Anne named it Sparkle Lake because of the way it sparkled in the warm sunlight in the summer and in the cold sun beames in winter.
The Beaman had been the early settlers of the creek, more and more Beamans left to neighbouring villages and only one twig of the family still lives there, that twig is Elliot, his wife Evangeline and their children.
As time goes on, more and more Sylvanians move to Dandelion Creek to live the old fashioned way of life in the beautiful countryside in and around Dandelion Creek.