Come and meet the friendly villagers who are always willing to lend a hand!
Macavity Cat Family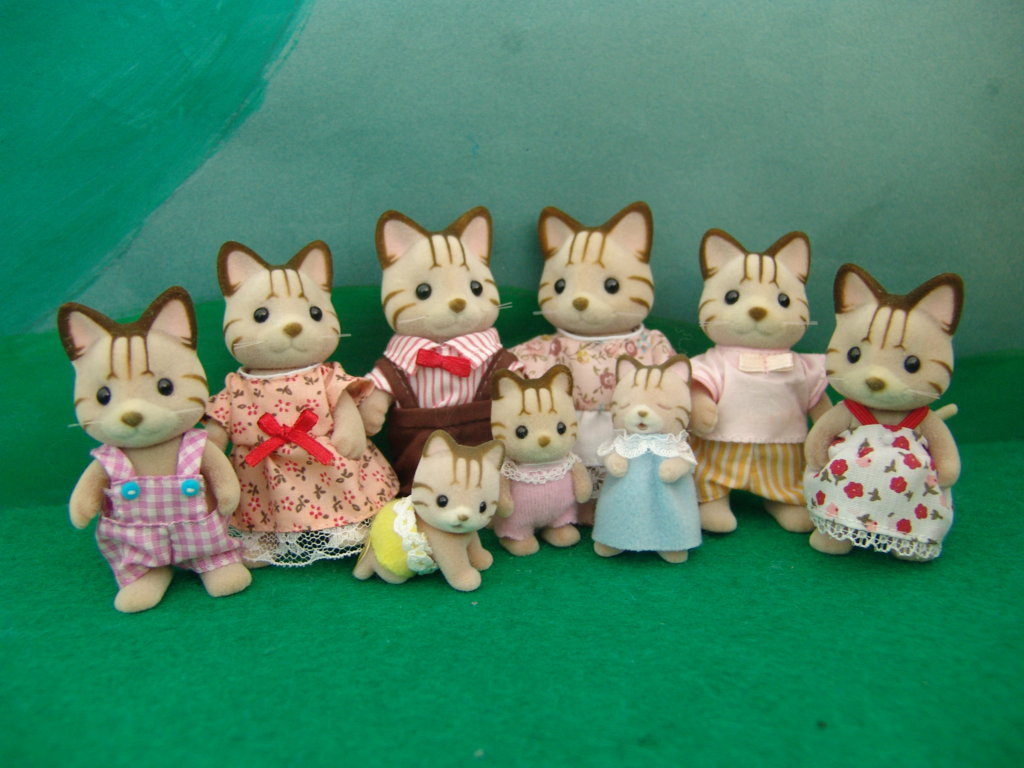 Alonzo Macavity
Alonzo Macavity is a kind, family man who loves doing things with his wife and children. He and Caroline did a parent roles swap so knows how difficult it is to be a mother and therefore brings Caroline breakfast in bed every Sunday. He also runs the village Bakery and wakes up very early in the morning to bake bread which is absolutely delicious so that many of the villagers get up early to get the freshest and warmest loafs of bread!
Caroline Macavity
Caroline Macavity also helps out at the Backery and she specializes in making shaped toasts and buns which are very popular with the children (and adults!) in the village. Being a mother of seven children is not an easy job but Caroline loves almost every minute of it, her children bring her so much joy. Some of her favorite things to do are to bake and then close the Bakery for an hour and taking a morning stroll along the river.
Lupin Macavity
Lupin Macavity is not so sure if he wants to some day run the Bakery as he is not such a good baker himself. He would much rather do some sort of woodwork and has befriended Aaron Cottontail and Eric Bramble who build furniture and construct all sorts of things. Fishing is another one of his favorite things to do so regularly arranges Father Son days where he, his younger brother Rumpus and his Father go fishing together.
Clara Macavity
Clara Macavity is very ladylike. She prides herself in her well dressed appearance and her near perfect manners. When she is not chatting with some other females in the community or drinking tea, she can be found most likely sitting under a tree either reading a romance novel or sewing something. She has recently taken up quilting as well. Of course being the eldest daughter in the household, she is expected to help clean and cook but does this rather willingly. Clara refuses to call her younger sister Asparagus by her real name since it is "unladylike" calling her sister a vegetable and therefore has resorted to calling her Aspa.
Rumpus Macavity
Rumpus Macavity loves to wind his sister Asparagus up. One of his favorite ways to get his sister annoyed at him is to, whenever they have asparagus, is to chase his sister round and round the room with a fork shouting "come here vegetable! I want to eat you asparagus". His mother Caroline often sends him to his room because of this but Rumpus always thinks it is worth it. He has a passion for football but would rather tease his sister than play.
Asparagus Macavity
Aspargus Macavity hates it when her brother Rumpus teases her about her name. Some of her new nicknames include Veggie and Asparagus wishy washy because she really dislikes washing the dishes. Asparagus would like to learn an instrument but has not yet decided which one she would like to play, there are just so many options! But with a friend like Megan Appleseed, she will soon find an instrument that she wants to learn to play.
Skimble Macavity
Skimble Macavity is a good little girl who likes to please her family. She often makes little presents out of things she has found or collected out on a walk such as flowers, pretty pebbles, oddly shaped leaves and so much more! One of her favorite treats are her Mothers cat shaped breads, they are so light and fluffy!
Electra & Etcetera Macavity
Electra & Etcetera Macavity are quite quiet babies who like nothing better than to be taken around in their pram. Etcetera is always at the front since he really enjoys looking about while his twin sister Electera finds that all of this fresh air makes her very sleepy and mostly naps at the back of the pram.
Beaman Cat Family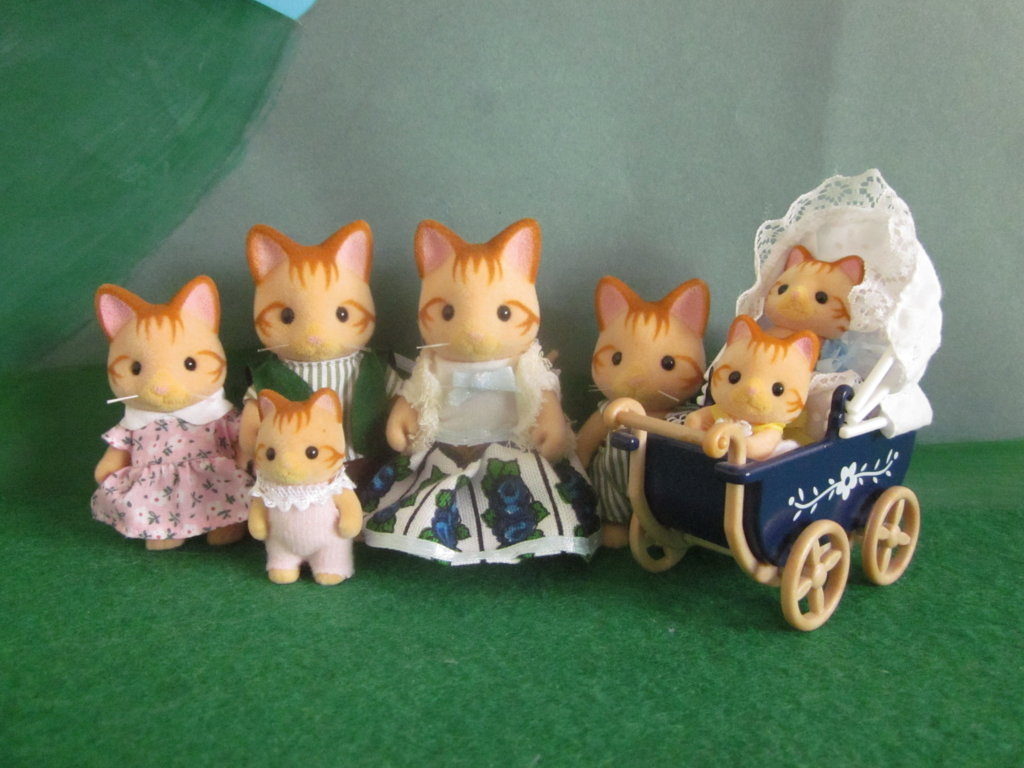 Elliot Beaman
Elliot Beaman is the Mayor of Dandelion Creek and enjoys his job very much though it is a lot of very hard work and a big commitment which takes up a lot of time. He does manage the workload well and loves to spend the rest of his day with his family. Elliot loves having adventures and traveling but at the moment travel and adventure is at the back of his mind, he has a village to run, a family and orphans to reunite with their families. Elliot is very social and has an even bigger heart.
Evangeline Beaman
Evangeline Beaman likes everything and everyone to be neat and tidy. In the Beamans house, there has not been a messy room for years! Evangeline prides herself in her immaculate appearance and perfect manners and therefore expects her children and husband to do the same! She also has a sense of adventure (not as great as her husbands) and a warm heart to others. Evangeline fully supports her husband and children and tries to help them cope with any problems they may have.
Eddie Beaman
Eddie Beaman is a very outdoorsy sort of person and can always be found outside in the fresh air playing football or climbing trees. Football can sometimes get very muddy so he gets a telling off from his mother about the state of his clothes but Eddie thinks it is worth it. It embarrasses him when his mother is fussing around him in front of his friends though but knows that soon he will be allowed to go outside and play- after that collar is straightened and fur is brushed.
Lucille Beaman
Lucille Beaman is a good girl that does nearly everything to please her family, she does what she is told and a whole heap more and gets many rewards for her good behavior. She and her friends like to collect flowers and do arts and craft with them though Lucille always remembers to put a cloth down before gluing unlike her brother Eddie who once glued a rock to the kitchen table!
Emily Beaman
Emily Beaman is such a sweet little girl that everyone fusses over her. She enjoys this very much but sometimes wants her own space. One of her various interests is picking flowers and giving them to random sylvanians she sees. Lately she has always wanted to go to the playground since all of her friends are always there and her mother is grateful that around the area there is no mud for her to get dirty in so allows her to go.
Pickle & Sprout Beaman
Pickle and Sprout Beaman are happy little babies and love nothing better than to sit in their pram and be wheeled around by their mother. Both are very happy when they are taken along to grocery shopping trips because they get to hold the food!
Cottontail Rabbit Family

Aaron Cottontail
Aaron Cottontail is a very good furniture builder and is a master with wood. Some of his favorite pastimes are carving, sleeping and spending time with his family. Whether it is a holiday in Sylvanian City, a day trip to the seaside or just an evening storytelling or board game, he manages to squeeze something in. Another one of his hobbies is growing his own vegetables for his wife Sorrel to cook with, he is always sure to plant a large amount of carrots since they are the families favorite vegetable.
Sorrel Cottontail
Sorrel Cottontail loves to cook with all of her husbands fresh vegetables and wants to plant some fruit trees. She makes the best carrot pies in the whole village so others always look forward to eating it if they have the opportunity. Sorrels nickname is Mopsy since she used to love to mop the floors when she was little. She only allows her husband to call her that and very close friends. Sorrel works at the Country Market and spends many hours talking and selling there.
Peter Cottontail
Peter Cottontail or also known as Peter Rabbit, is very sporty. He trains for no reason and is always winning running events since he is very fast. When he is not running he likes to climb trees and play football with his friends.
Willow Cottontail
Willow Cottontail or Flopsy (She used to be very clumsy) is sporty like her older brother Peter, she also wins many sports events but is hopeless at the sack race. Sorell once tried to get Willow into embroidery but with out success. Willow is much happier to be with her friends than to do embroidery or babysit her little brother Charlie.
Charlie Cottontail
Charlie Cottontail, sometimes called Cottontail is everything Sorrel could have ever wished for. When the rest of the family is outside little Charlie prefers to play indoors with his toys or watch her knit or be read to. This perfect little angel has wonderful manners for such a little boy and everyone in the family just love him to bits.
Cottontail Rabbit Grandparents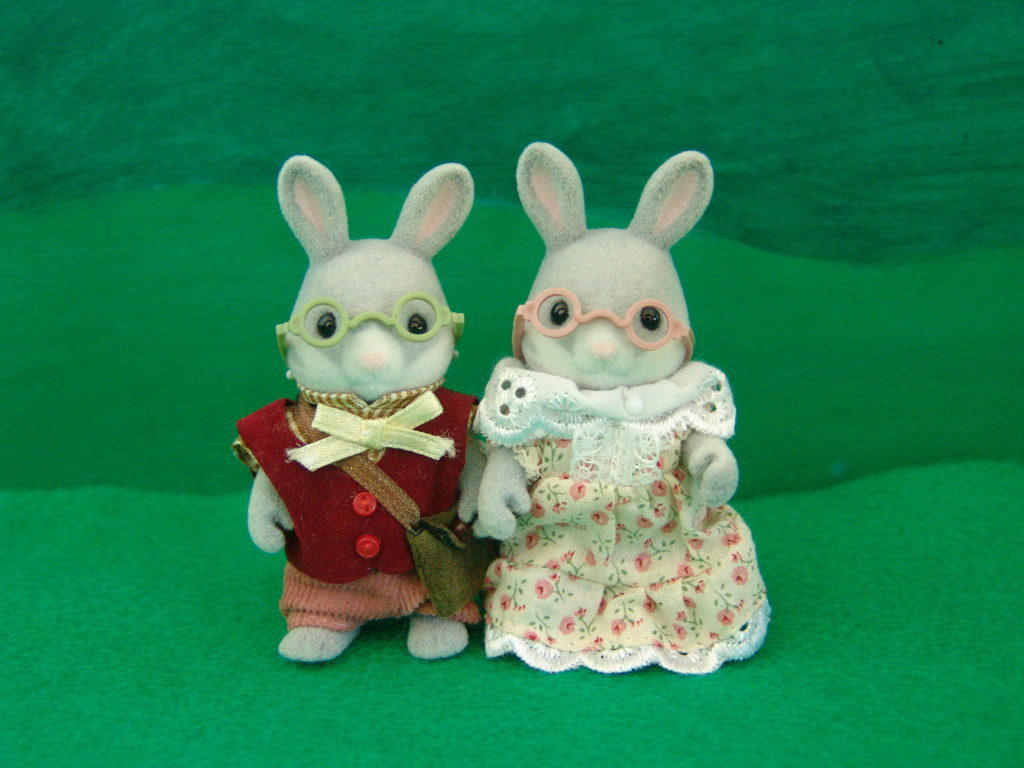 Christopher Cottontail
Christopher Cottontail is a retired clock maker. He is a very easy going man who loves his peace and quiet and reading the newspaper with a cup of tea. Christopher also enjoys being around his grown up daughter Sorrel and of course his three grandchildren, Willow, Peter and little Charlie. Sometimes he takes Charlie on his morning walks and teaches him about all sorts of different plants. He can't help feel full of pride when he sees Charlie sharing his knowledge with some of his friends at Nursery.
Catherine Cottontail
Catherine Cottontail is a grandmother everyone wishes they had. She is loving and kind and always has a hug to give. She can be quite firm at times but her grandchildren love her cookies, cakes and bedtime stories. Everyday, Catherine and Christopher pop by the Country Market where they drink herbal tea and read the newspaper.
Dante Cat Family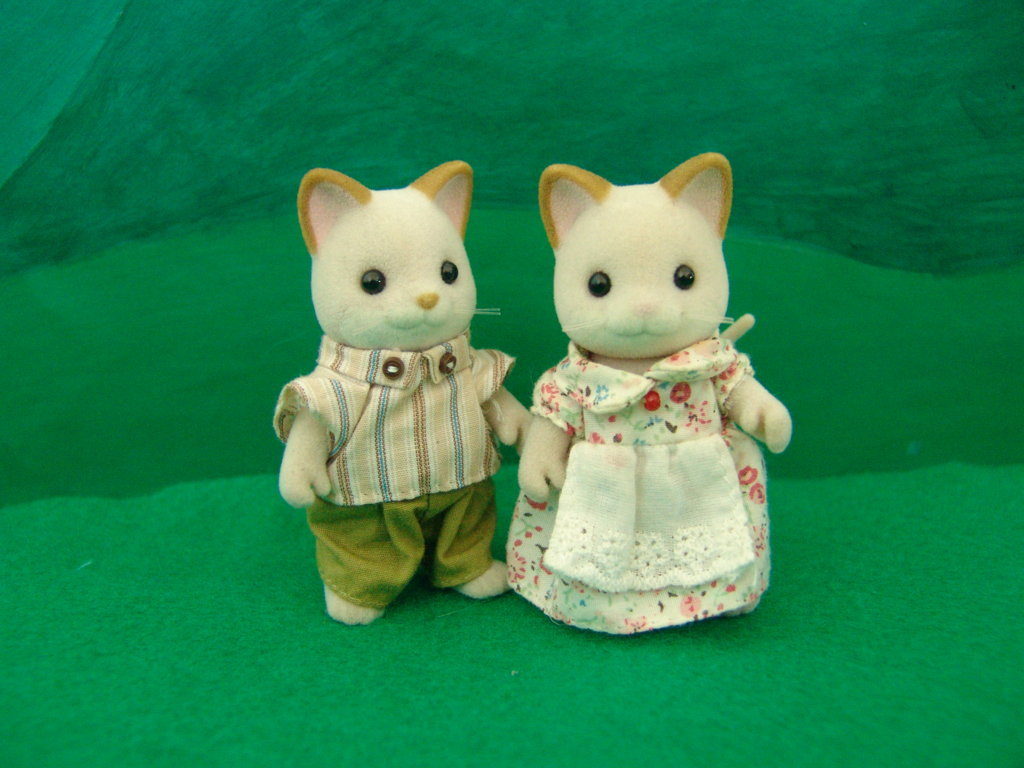 Patrick Dante
Patrick Dante's is nearly always cheerful and with a smile on his face, except when he gets scolded by his newly wed wife Primrose for eating too much. She says it is because he eats too many doughnuts. Patrick loves doughnuts, especially the ones with sugary icing which the local Bakery sells. Going to the Bakery is one of his favourite past times along with spending time with Primrose and the others from the village.
Primrose Dante
Primrose Dante loves her husband very much, even though she sometimes gets annoyed at his hearty love for doughnuts. She regularly drinks tea with her friend Tabitha Hazlewood at the Country Market and discusses the latest editions of her favourite magazine. Unlike most females, wash day is one of her favourite days of the week. She finds it very satisfying too see the once dirty clothes hanging up so clean and fresh on the washing line. Her happiest memory is their wedding day which was just perfect!
Appleseed Rabbit Family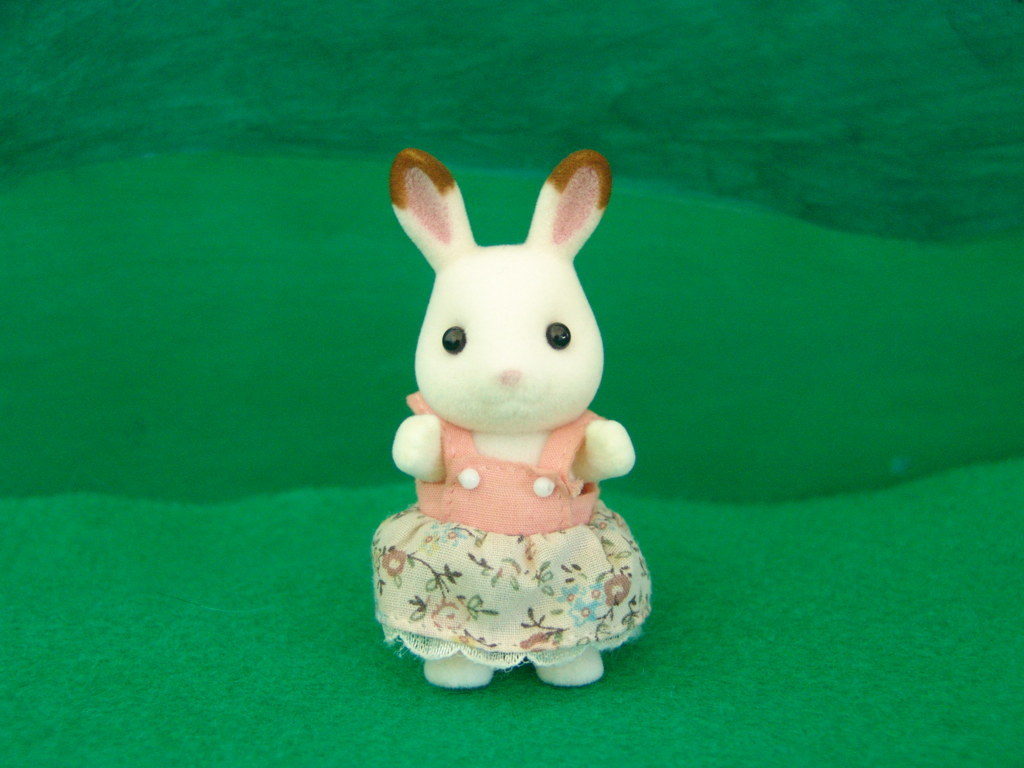 Mimi Appleseed
Mimi Appleseed is best friends with Claire Golightly. They share the same interests, ballet and ice skating. Her favorite season is winter as then the lake freezes over and she can ice skate! Wrapping up warm and sipping hot chocolate are also things she loves very much and having your best friend by your side makes life just so much better.
Cakebread Poodle Family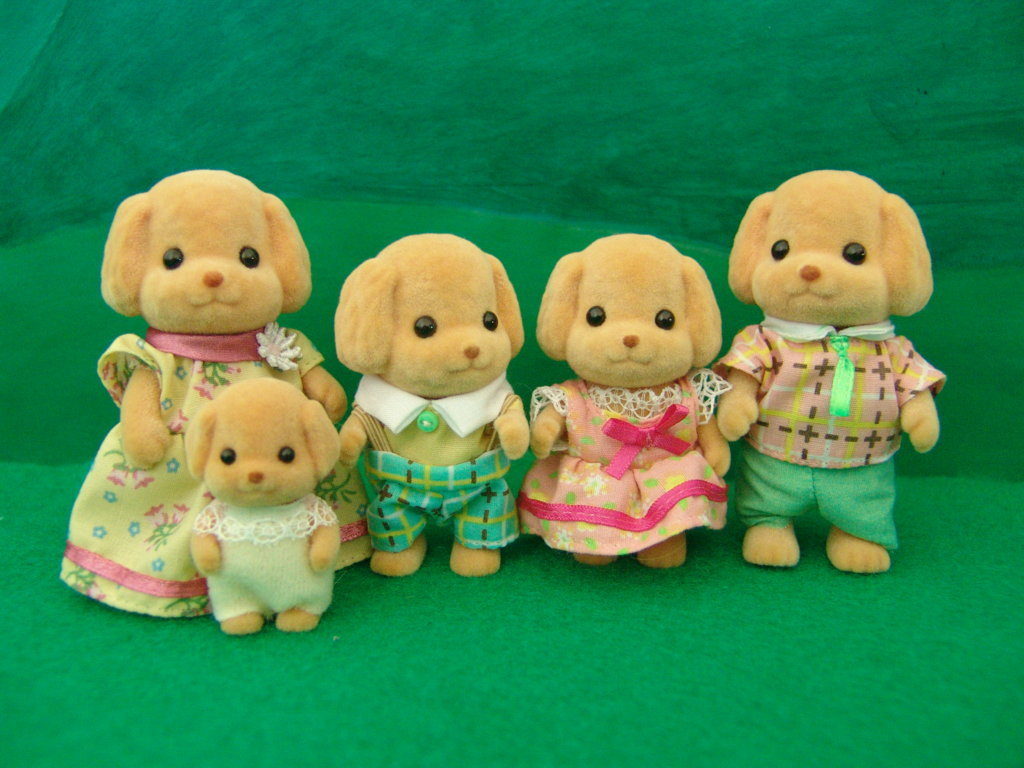 Martin Cakebread
Martin Cakebread is friendly man who is always willing to help everyone. His cheerful attitude and twinkling eyes make him a villager everyone wants to be around.
Melissa Cakebread
Melissa Cakebread is very proud of her green fingers. She has a real passion for growing flowers and hers are always the most healthiest and most vibrant. She enjoys teaching others and hopes that the nursery or school will let her run a gardening program some day.
Marley Cakebread
Marley Cakebread is a tidy boy who likes to play the occasional game of  football but prefers to read. He is of the quieter sort who would much rather draw or something than play a rowdy sport.
Melissa Cakebread
Melissa Cakebread loves to go shopping with her friends. There are not many shops in Dandelion Creek to visit but the Country Market and Bakery are always fun to visit. Especially the Bakery where Mr. and Mrs. Macavity dish up the best doughnuts and cocoa.
Milo Cakebread
Milo Cakebread is a cheerful young poodle who is always smiling and singing!
Treefellow Owl Family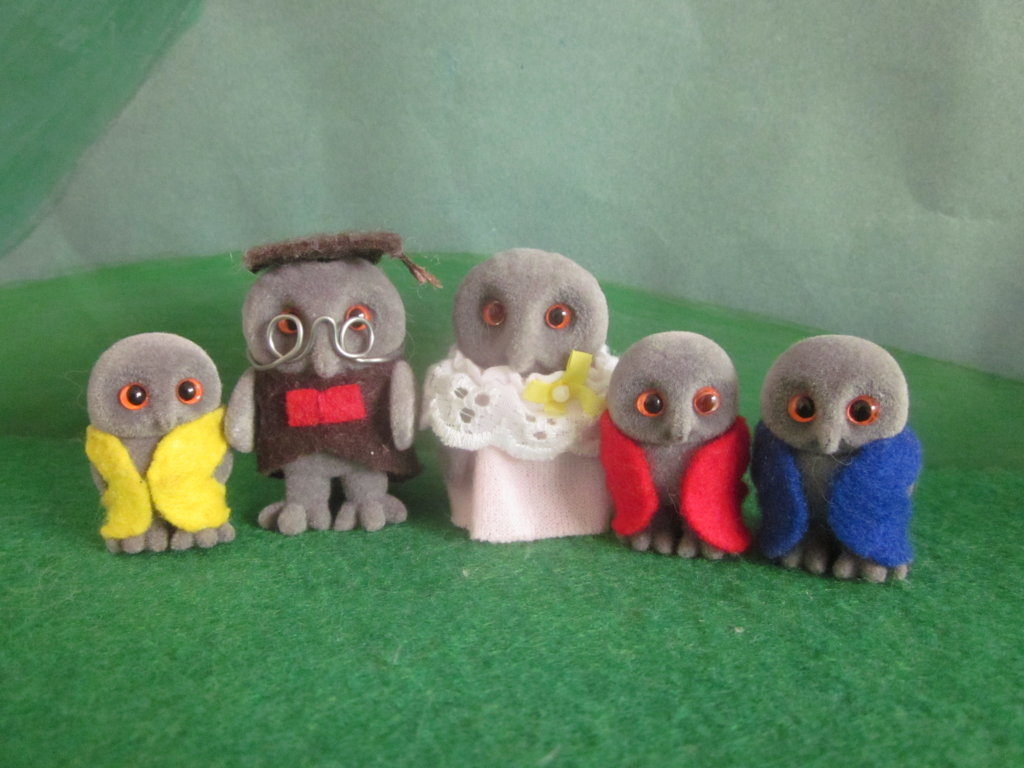 Aristotle Treefellow
Aristotle Treefellow teaches all the children in the village that are old enough to go to school, his favorite lesson is English because he loves to read and talk about books. He carries around with him around 15 books and rereads them constantly. His wife wishes that he was more social but he isn't.
Arabella Treefellow
Arabella Treefellow is very tidy and loves nothing better than to have a clean house, she gets very annoyed sometimes when Aristotle had another one of his school nature trips through the forest and gets mud all over her sparkling clean floors.
William Treefelllow
William Treefellow in the blue likes to read almost as much as his father does. He can read already but likes to look at the pictures and listen to stories than read them himself.
Freddie Treefellow
Freddie Treefellow unfortunately takes after his father and is not very tidy like the rest of his siblings, he leaves his toys around everywhere and his mother is always telling him off when eating cake because he gets crumbs all over the table and chair, himself, anywhere really but his plate!
Henry Treefellow

Henry Treefellow is a very quiet boy who goes unnoticed most of the time but is very noisy with excitement when they are aloud to play on the big slide or outside at nursery. His favorite thing there is the seesaw.
Golighty Cat Family
Claire Golightly
Claire Golightly is a very girly girl, the total opposite of her younger sister Lucy. She loves to dance like the rest of her family, especially ballet. Her main hobby however is ice skating which she has been doing ever since she was just a little toddler! When the lake freezes over, she is the first to be on the ice and then the last to get off when the ice begins to melt. The only bad thing is, ice only forms in winter!
Lucy Golightly
Lucy Golightly is very adventurous. While her sister Claire is doing piles and all sorts of leaps, she is outside in nature. Swimming, climbing and camping are some of her favorite things which she does whenever she can. One day she wants to be a biologist or some sort of person who studies plants in nature as that fascinates her.
Hazlewood Mouse Family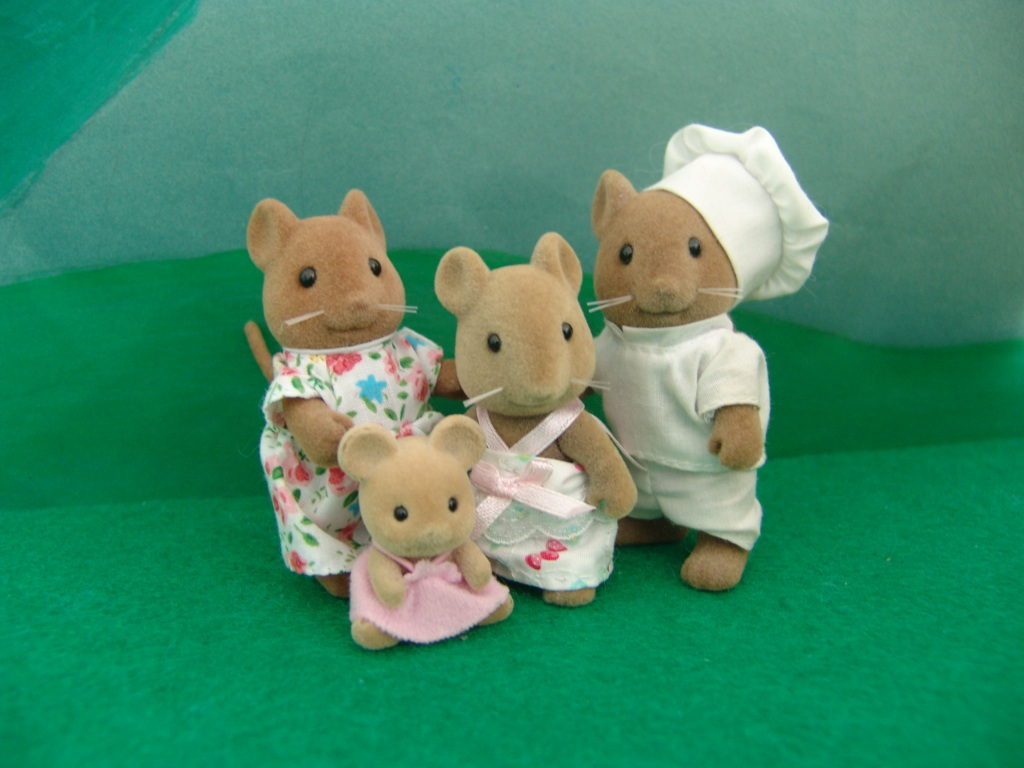 Henry Hazlewood
Henry Hazlewood was once a famous chef but in the last couple of years he went traveling around the world and saw many countries. But his favorite was Austria because he liked fir tree forests, skiing, country side and their traditonal clothes, dirdle and lederhosen. But now he works at his own restaurant called the Harvester Restaurant which is actually inside the old village store building which he has re decorated. He is very proud to have such a wonderful wife and daughters.
Tabitha Hazlewood
Tabitha Hazlewood is a very friendly lady. She is very proud of her husbands restaurant and sometimes she and Henry eat there. At home though, Tabitha does the cooking since Henry is often shattered after his day. Wash day is very important to her but wishes that she had a proper washing line to hang her clothes on. Luckily, for Christmas, Henry and Mayor Elliot Beaman arranged for one to be built. You can imagine how thrilled Tabitha was to have her own proper washing line!
Evie Hazlewood
Evie Hazlewood enjoys having sleepovers at her friends houses and owns a very pretty pink night gown. She would have liked to wear it during the day as well but her parents insisted that she should get a proper dress. The dress is very pretty so Evie now happily wears it. Collecting flowers is something she loves to do and decorates her room with them all the time. No wonder spring is her favorite season!
 Millie Hazlewood
Millie Hazlewood loves her Daddy's food and is interested in his travels. For her he is the best dad in the whole world and she wants to be just like him. She is a very keen little chef and and her father calls her "my little apprentice" sometimes when they cook together. Being adopted, Millie does hope that she can find her real family some time but for the time being, she is happy enough to be with her adoptive family since they treat her just like a proper daughter.
Buttermilk Rabbit Family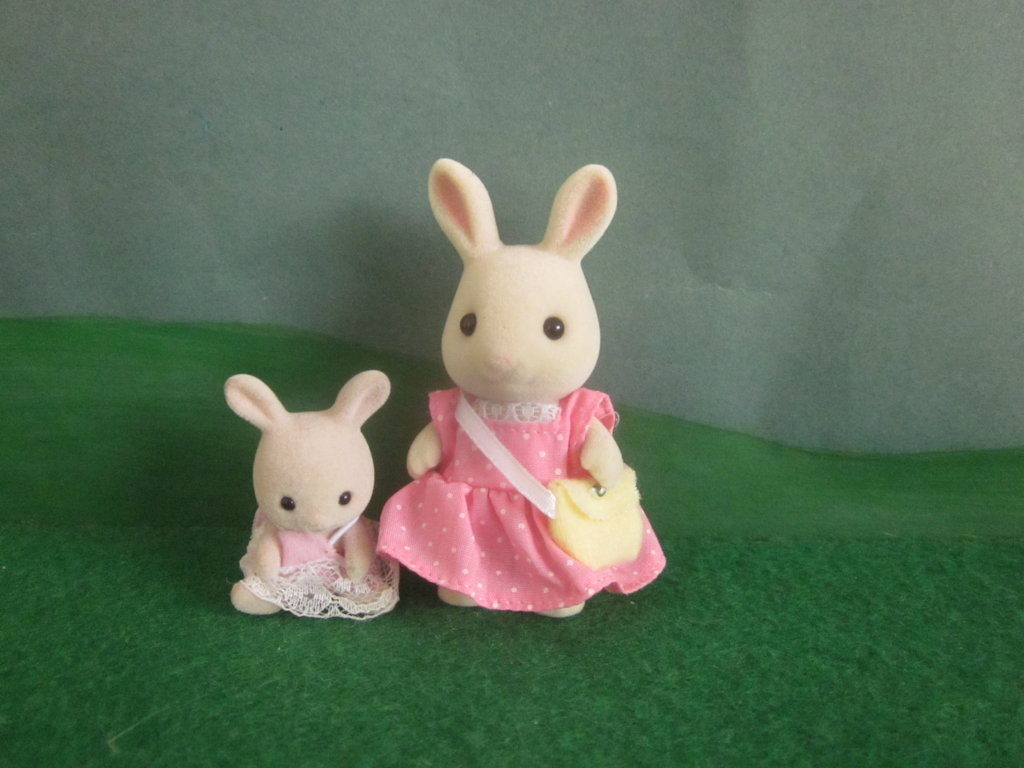 Rosie Buttermilk
Rosie Buttermilk loves to look her best and go window shopping. Not only that but she is a lover of Ballet and owns her own pointe shoes which she is proudly learning to dance in. She dreams of being a ballet dancer and performing in one of the most professional ballet theaters.
Laura Buttermilk

Laura Buttermilk is also beginning to like Ballet and the pretty tutus. her favorite colour is pink so everything she wears she likes to be pink too!
Bramble Hedgehog Family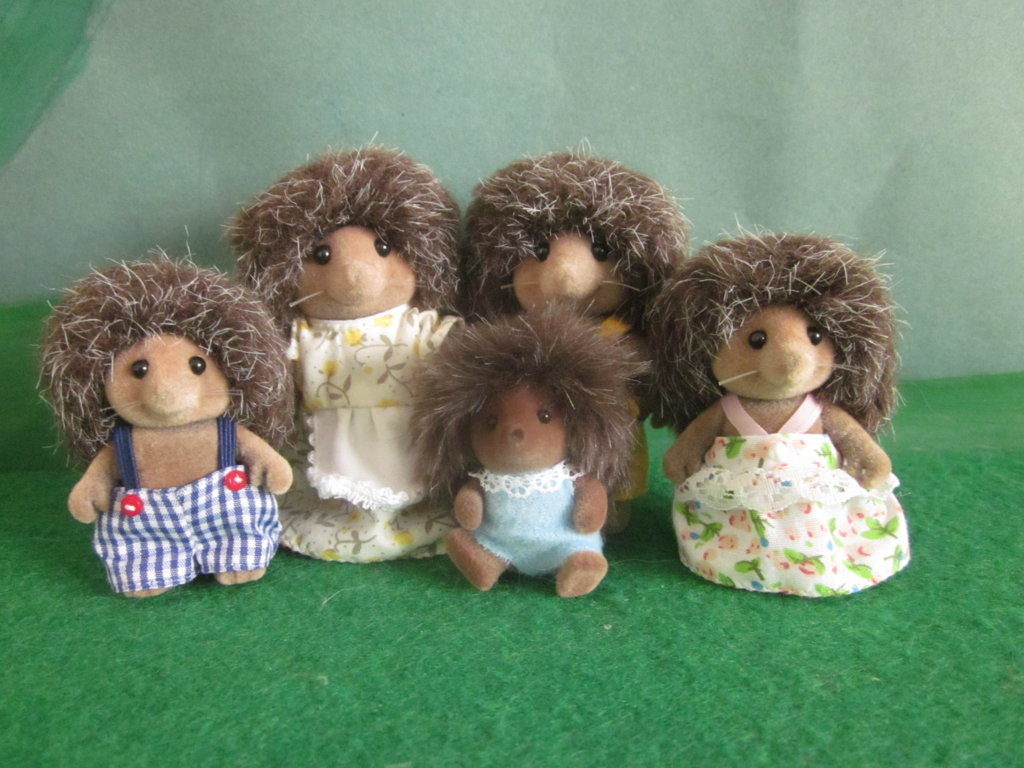 Eric Bramble
Eric Bramble is a good friend of Aaron Cottontail and specializes in wooden furniture and carving. All of his pieces are hand made with his own personal touch on them. Eric is more of a thinker than a talker and has proved to be strong in maths and calculating angles which all come very useful in furniture making.
Rebecca Bramble
Rebecca Bramble was delighted to find out that her closet friend from her childhood, Matilda Billabong, lived in the same village that she had recently moved into. Even more, Matilda let her work at the shoe shop while she worked at Rebecca's Popcorn Cart! Rebecca was stunned at the great views all around Basswood Creek and how peaceful in was compared to places like Sylvanian City or even Pumpkinville.
Maxi Bramble
Maxi Bramble is a very quiet boy who much prefers drawing to game of some sport. He probably is one of the most talented drawers in the whole village which is no surprise for his parents since they can hardly pry him away from his drawing and sketching book to go out for a walk!
Anna Bramble
Anna Bramble is quite shy but not as shy as her brother, she's made friends with Rosie Buttermilk, Lucille Beaman and Willow Cottontail and they all have a lot of fun together. Anna also tries hard at school, especially in maths but she just can't get her head around problems like three squared because she always thinks that the answer is six.
Appleseed Rabbit Family
Megan Appleseed
Megan Appleseed is a natural when it comes to music, she can play every instrument in the village and enjoys teaching others. Therfore it is no surprise thatshe knows Michael Dream very well since he teaches music at school.
Alice Appleseed
Alice Appleseed has not found her talent yet but likes to go to the playground and play on the seesaw there. She is quite shy but when she is excited, gets very loud and noisy!
McPurr Cat Family
 
Douglas McPurr
Douglas McPurr works as a butler in the harvester restaurant and serves the guests the delicious food Henry Doormouse makes them. Though being busy at his job, he still finds time to organise trips for the family and go on picnics.
Marie McPurr
Marie McPurr works at the bakery as a waitress, she dishes out cakes and serves customers, in her spare time she likes walking in the country side and picking flowers. Marie is a good tempered woman, she loves  Douglas and her daughter Petra.
Petra McPurr
Petra McPurr is the newest member of the McPurr family and loves her family very much, at night, she sometimes gets to sleep for a while in Mothers and Fathers bed. She enjoys pram rides and outdoor activities.
Walnut Squirell Family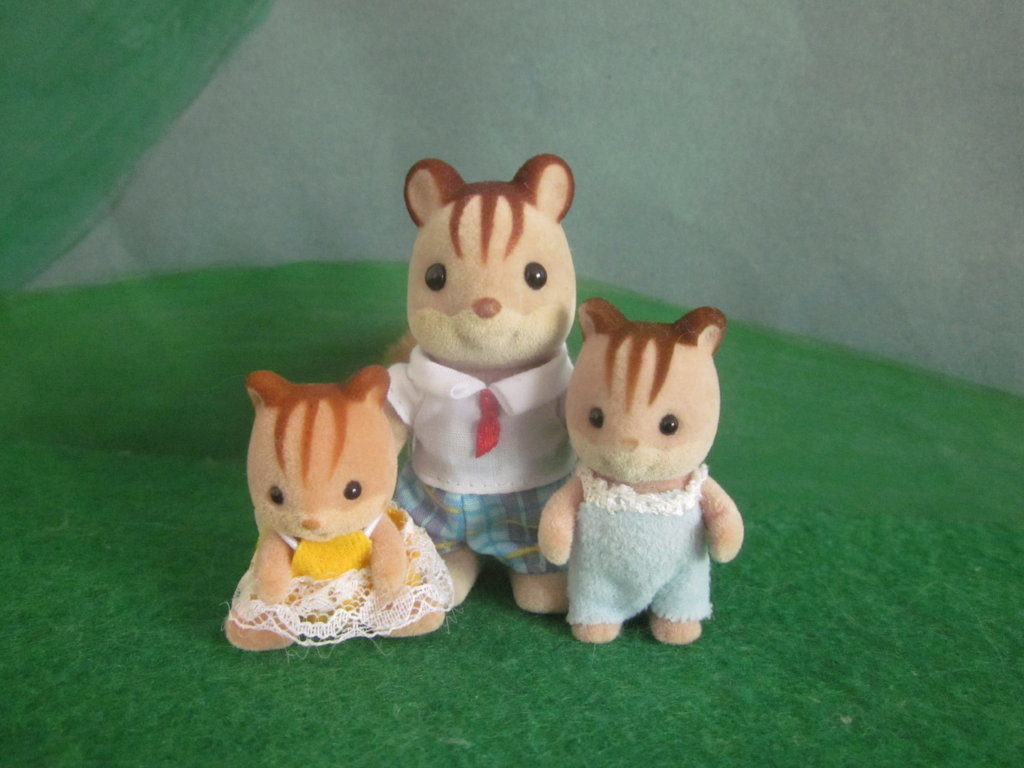 Harrison Walnut
Harrison Walnut takes school very seriously and studies for exams months berfore. Another passion of his is teaching others and playing football, in fact, he is the football captain!
Tobias Walnut
Tobia Walnut likes to play with toys at the nursery but finds it very hard to make friends. But now, with a little encouragment he has now go lots of friends to play with and is never bored.
Hayley Walnut

Hayley Walnut loves to play on the swing at the playground, nothing can make her much happier than swinging up into the sky and to pretend to fly.
Blackberry Rabbit Family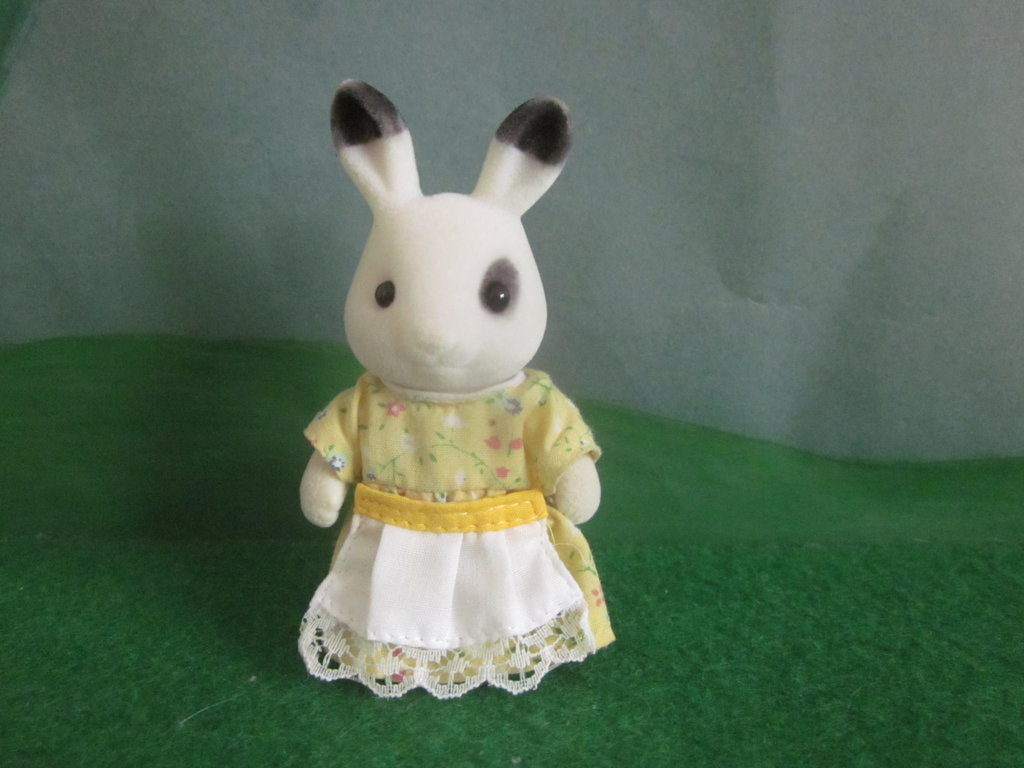 Chelsea Blackberry
Chelsea Blackberry loves fruit and successfully runs a juice bar selling fresh fruit juice, jams and of course fruit! She grows her own fruit a private orchard and on Wednesday afternoons, she takes nursery age children out to the orchard to pick the fresh fruit.