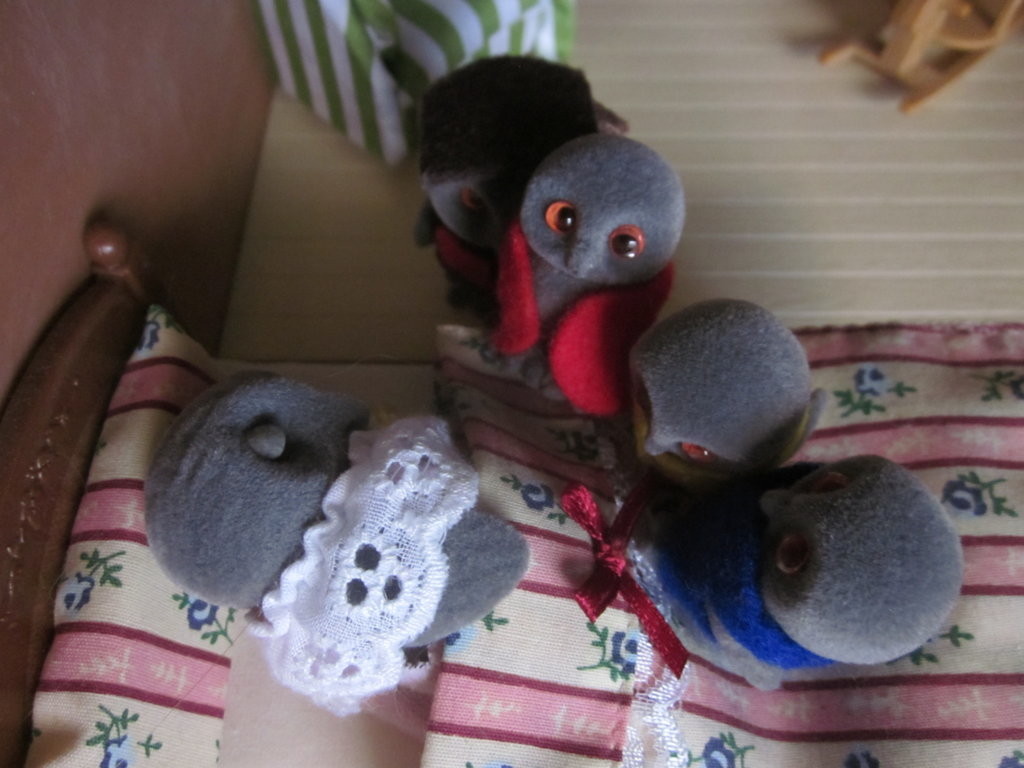 "Mummy, mummy, MUMMY!" chirped the triplets as they jumped up and down excitedly on the bed. Arabella Treefellow was the last one to get up for a change, she had been up all night helping Dorothy Fisher bake hot cross buns.
"All right, I'll get up" she groanded
"I told them not to but they were too excited" said her husband Aristotle, he was the trios first victim.
"You know what day it is today mummy? Do you? Do you?" they asked while fidgeting non stop
"Yes, how could I forget, you have told me nearly every hour at least sixteen times yesterday" their mother sighed
"So, what day is it?"
"It is christmas ahh, I mean-"
"Christmas! Wish it was but it is …" said Freddie
"EASTER" they finished.
"So I guess you are looking forward to hurch then are you?" Arabella commented
"Well, we were more thinking easter egg hunt" admitted William as he raced of with the rest of his siblings and father downstairs to get ready to go to the bakery.
Arabella sighed again and got up, she selected her very best dress and put it on. It was pink with part of it floral and had white pearls as buttons. She still was not quite awake.
After a short walk, the family arrived at the bakery where they were met at the door by a very flustered Mrs. Fisher. "Five hot cross buns please!" said Aristole which made Mrs. Fisher even more anxious, she seemed to be on the verge of tears.
"Ooooooooooooooooh! I-I don't have any!" she stuttered
"But I helped you make some!" Arabella questioned
"Yes but Lulu and Annie thought that it would be nice if the birds had a nice easter and-"
"And fed all the buns to the birds I assume?" finished Aristotle
"Exactly!" groaned Mrs. Fisher
"Hahaha! Exactly, get it? Eggxactly?" laughed Freddie, he was quite a joker, the triplets laughed loudly
"Freddie dear, what do you mean-" asked his mother gently
"Oh let him!" interuppted Aristotle, "Well Mrs. Fisher, we will just have buns then, and some of your delicious cookies!"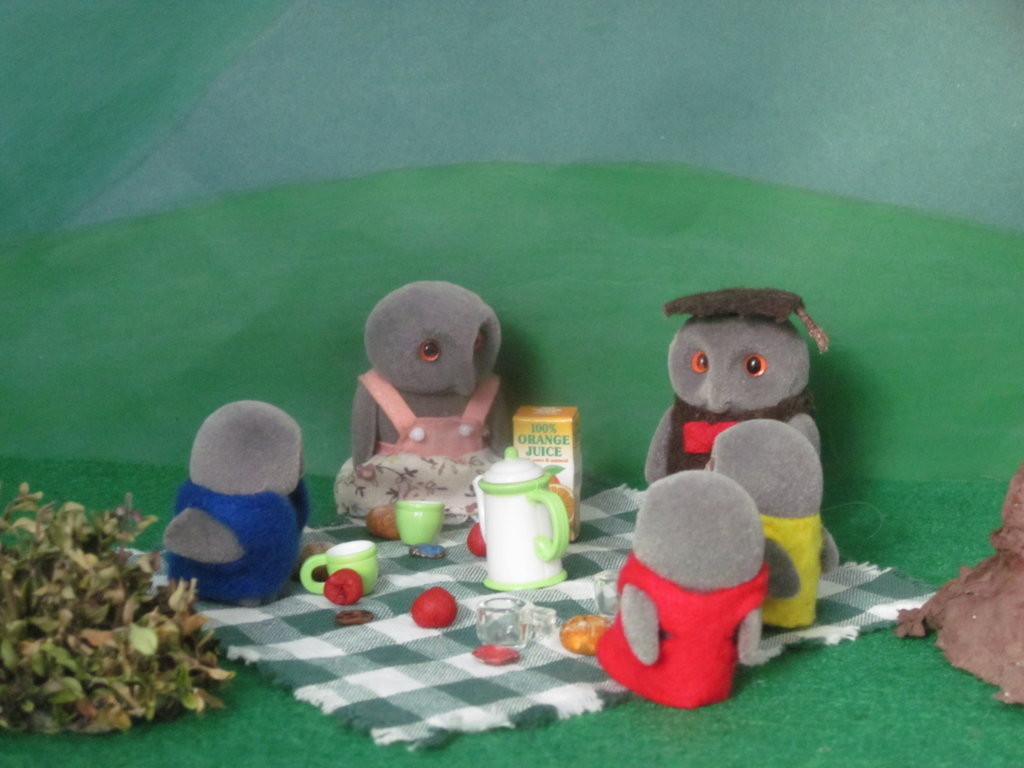 Soon the family had found a nice place to have their picnic, apples, buns and cookies were laid out and of course tea for the parents and orange juice for the children. Soon enough though they had to leave for chruch, the children hoped that afterwards the Easter Bunny might just have come…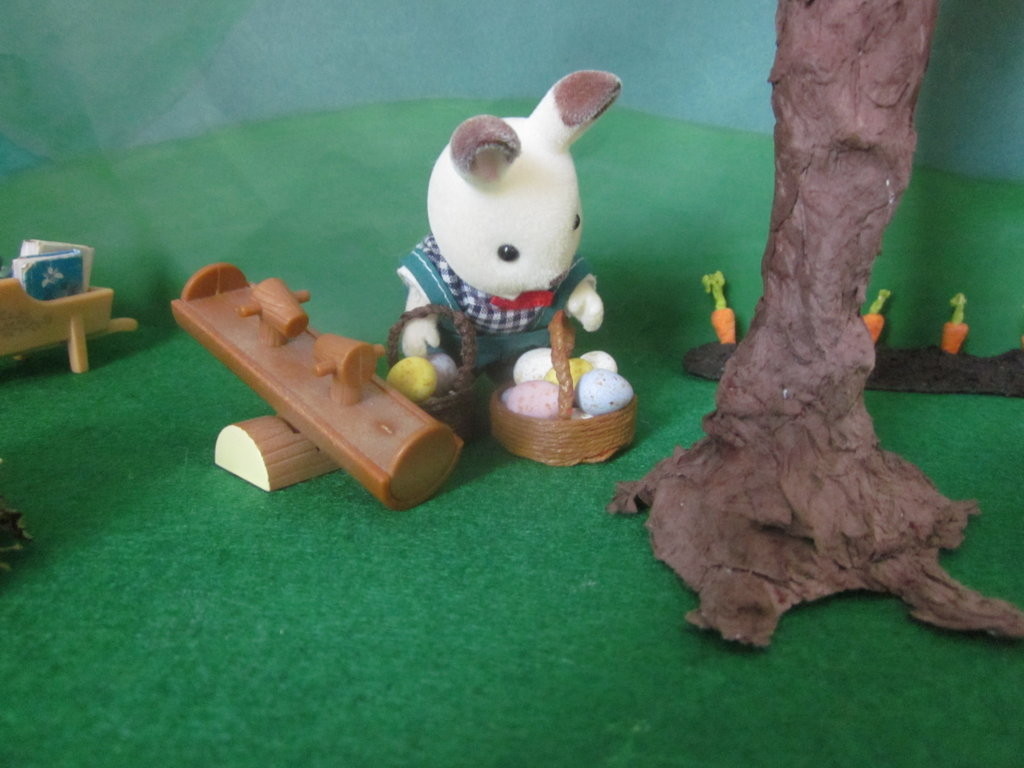 Sshh! Look at this, Fraiser Chocolate hiding eggs? Wait a moment, Fraiser never wears dark green pants…could it be? I think it might well be… the Easter Bunny!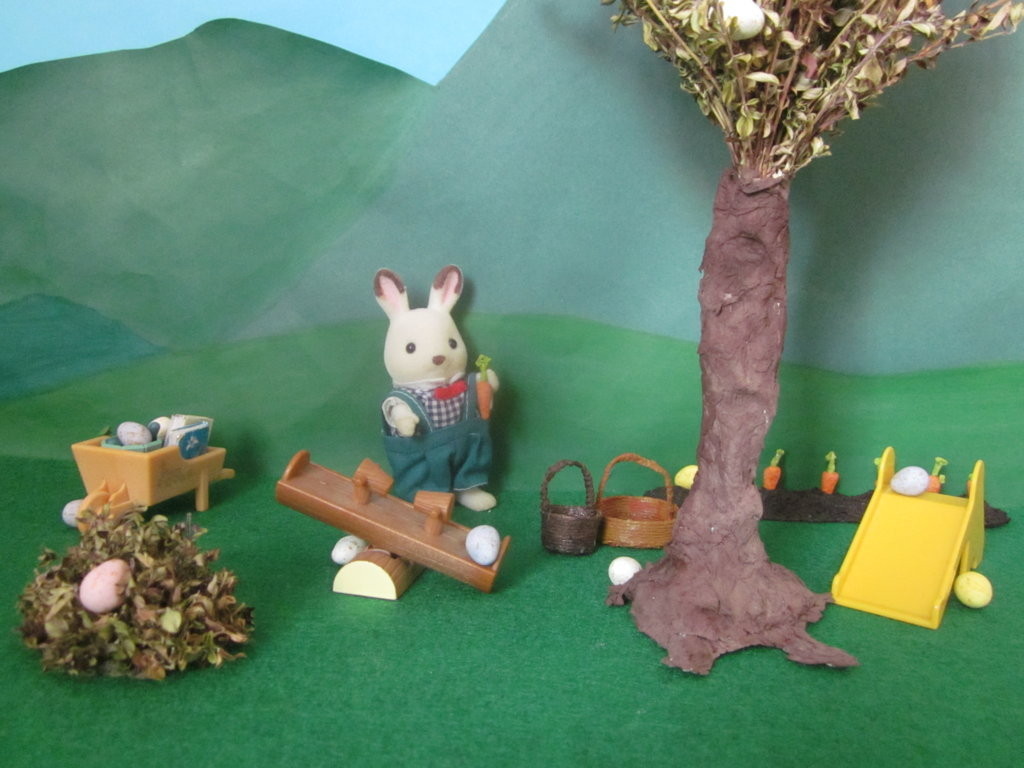 Now look, he has finished and has a carrot from the veggie patch, how many easter eggs can you spot? Do you see the one in the tree?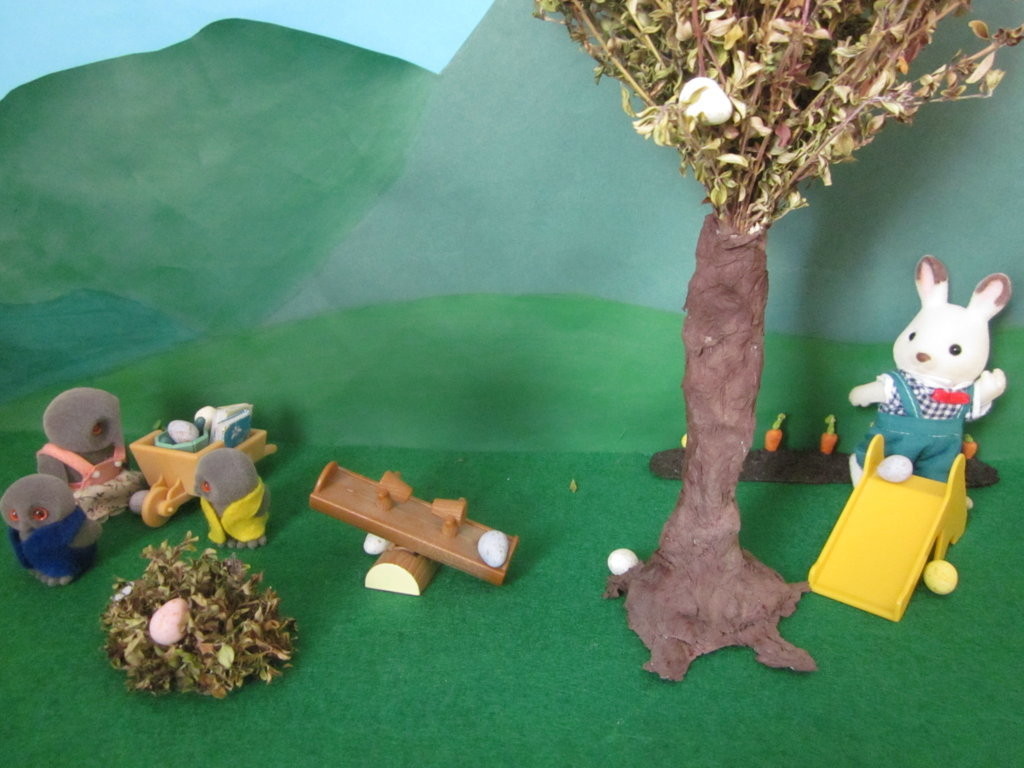 Uoh, hurry Easter Bunny! The Treefellows are coming!
Now all the children are hunting for their egg, some are here while most of them are in the village. It would get too crowded if they were all in one place. Lisa Acorn has even found the one up in the tree!
Happy Easter!
———————————————————–
What do you think of the story? Gosh, my tree is coming in really handy! I will need to make another one see my tutorial here. Just leting you know, my calendar has not arrived yet and I have cleared up the mystery of my book (see collectors club post the full information) This is what happened, the package could not be sent because it opened (the seal) but thankfully it should now be underway in getting here. My next posts will either be a review of my book or calendar or the Basswood Herald newspaper.
Emily