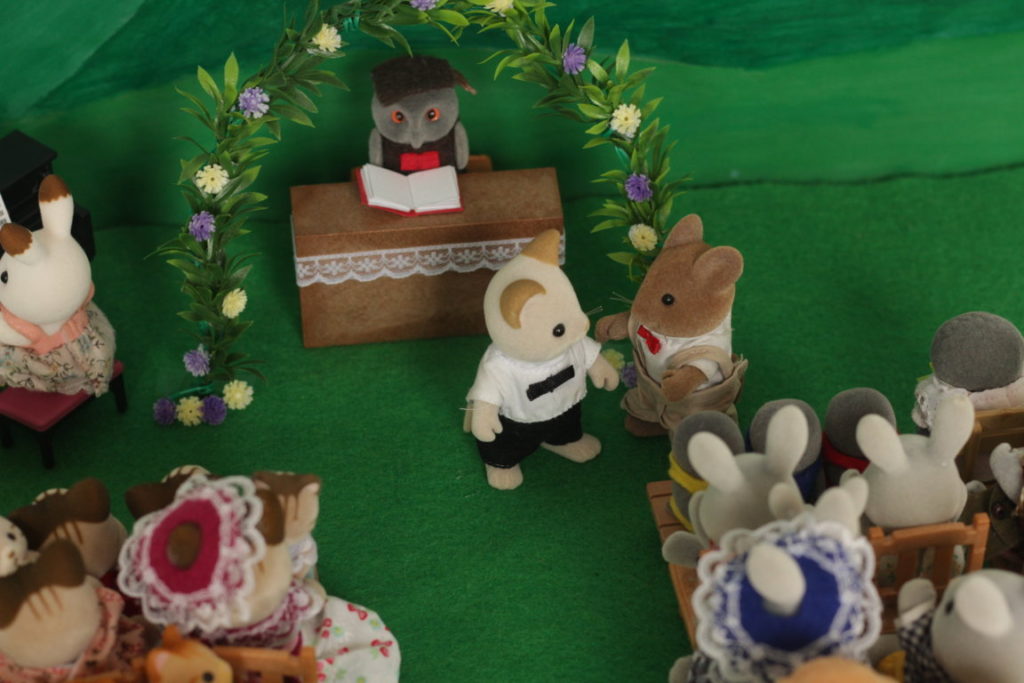 This particular day was a very exciting one for all the sylvanians living in Dandelion Creek as today, Primrose Keats and Patrick Dante would be getting married. The Cakebread and Cottontail family had gotten up bright and early to set up the floral arch and piano. Soon after the whole village had carried chairs onto the little meadow where the ceremony would take place, only a few minutes walk away from the heart of the village and were now chatting eagerly as they awaited the arrival of the bride. Patrick Dante stood just before the flower arch and was fidgeting madly with the hem of his shirt.
"Hey, relax Patrick!" his best man Henry Hazelnut said to him.
"Relax?! I am so nervous and excited, argh, when will she come!" Patrick babbled.
"All in good time, just relax and enjoy your wedding!" Henry encouraged as he pulled Patrick's hand away to stop his fidgeting "I see your pants fit now" he continued.
"Ha! I can fit them but Sorrel made we wear a belt as I looked too 'plump' and it is digging into my waist. I can barely breathe!"
"Poor you and-" Henry slapped his hand away from his shirt again "when you look at her you won't feel nervous anymore. Everything will be fine. Don't worry and stop fidgeting please"
Patrick gave him a disbelieving look but stopped fidgeting.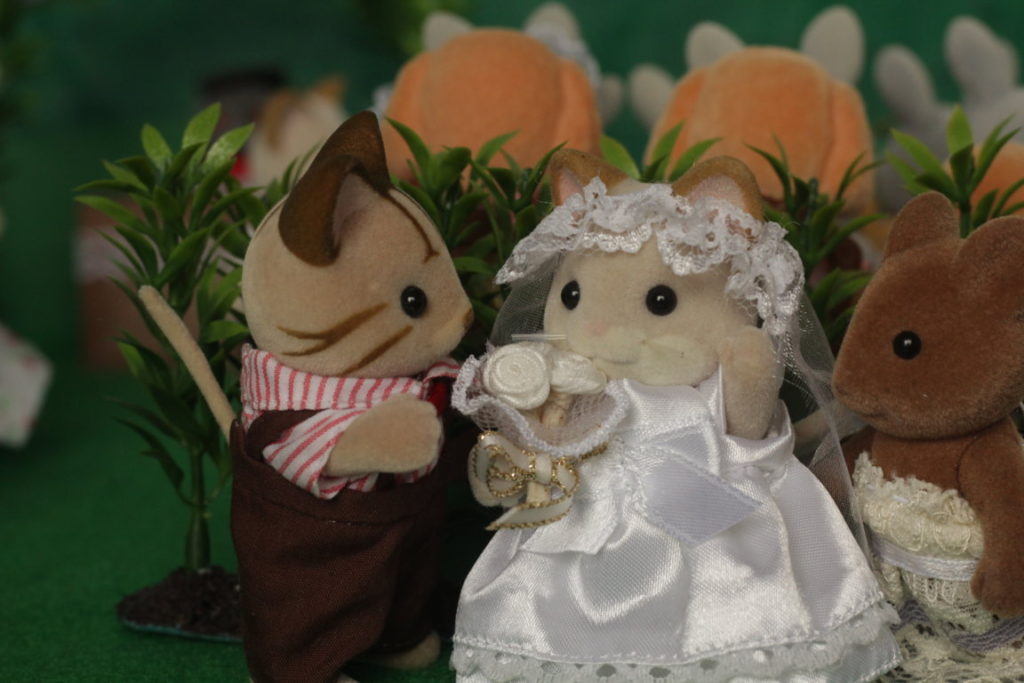 At the same time the bride was hiding behind a small hedge.
"Oh god! I am going to get married. Oh my, I am so nervous!" Primrose Keats spluttered and clutched her bouquet tightly.
"Now calm down Primrose, calm down" Alonzo Macavity whispered.
"Calm down?! I am going to get married! What if he changes his mind?"
"He won't. He loves you doesn't he?" Tabitha reasoned with her best friend.
"I think so but-"
"Say you wanted to live somewhere he really hated, would he still move if you had your heart set on living there?"
"I think he would, yes. No, maybe. I don't know!"
"Just shush Primrose! You will be just fine!" Alonzo assured her and gave her arm a quick squeeze "I think it is time for the wedding to begin Primrose!"
The clock struck the hour and the brides maid, flower girl and the maid of honour walked down the aisle. Since Skimble was so so small, Claire had to carry the basket for her as she herself had difficulties pulling it along. Everyone smiled as the trio who steadily made their way up to the front.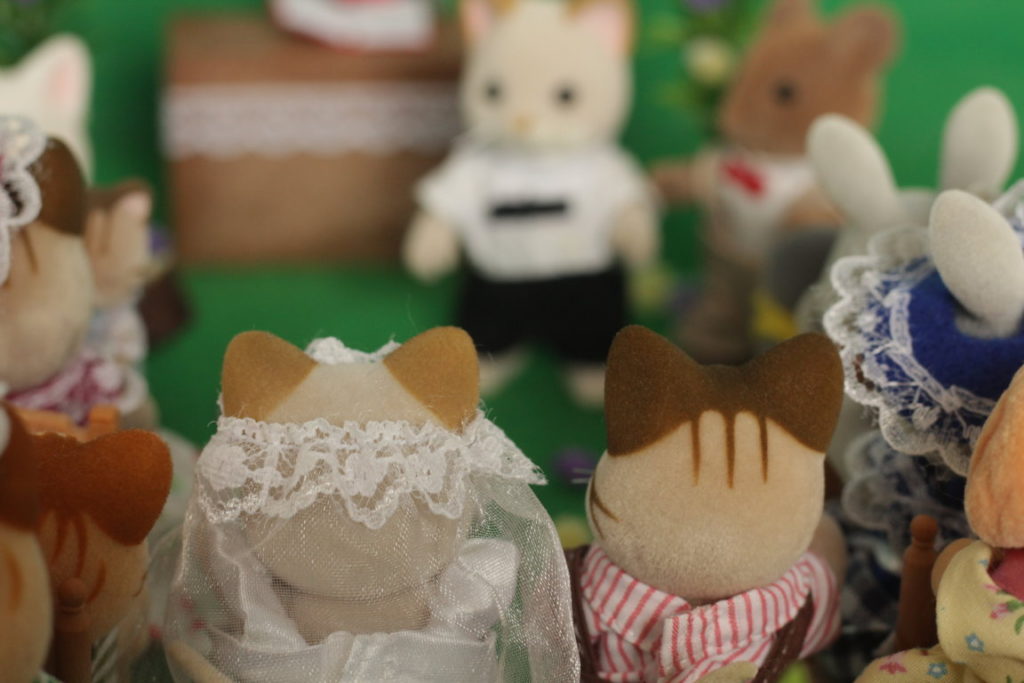 Then it was time for Primrose to make her way up. She looked magnificent in her white silk dress and the long veil though she did have a death grip on the flowers. Patrick looked at his bride in awe, he always knew she was one beautiful woman but she looked absolutely stunning now, his face lit up in a dazzling smile. The rest of the village oohed and aahed at the sight of her. Slowly and in time to the music, Alonzo and Primrose also walked to the front where Alonzo stepped beside Henry, leaving Primrose standing beside Patrick.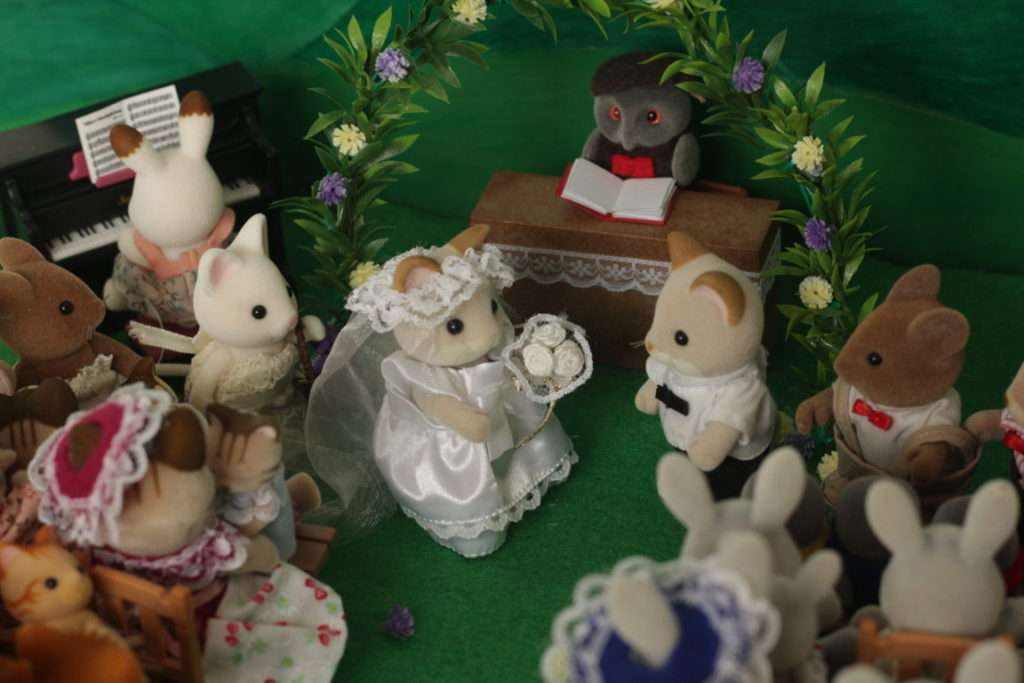 "Wow" he breathed to himself.
"Hi" she whispered back. Her dark eyes were alive with emotion and happiness and the small smile on her lips reminded Patrick of the time when they had just met only a year ago under a large oak tree. Her smile still made him feel butterflies.
Primrose smiled happily at him, she saw the adoration in his eyes as he looked right into her eyes. She blushed slightly when remembering all the time they had spent together. They both then turned to face Aristotle Treefellow.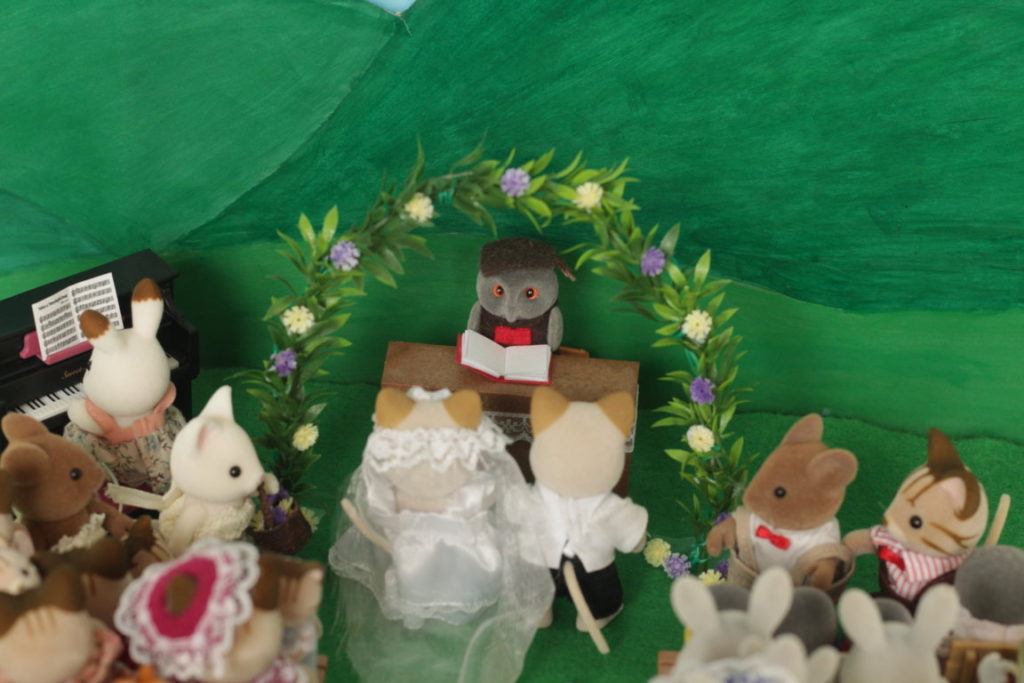 "Thank you everyone for gathering here today to witness the marriage of Patrick Dante and Primrose Keats. Today is a celebration, a celebration of love, of commitment, of friendship…" Aristotle began.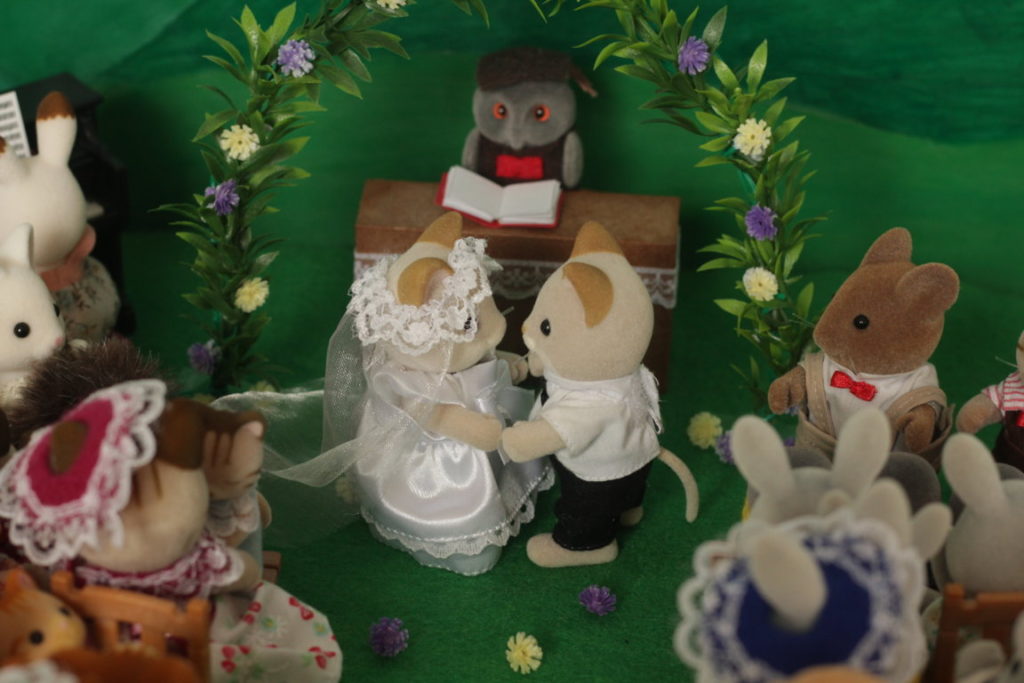 "I, Patrick, promise you: I will laugh with you in times of joy, and comfort you in times of sorrow. I will share in your dreams; support and encourage you as much as I can. I will listen to you with compassion and understanding. I will shield you from the wind, cover you from the rain, always be there for you. Together, we will live a life of constant adventure."
"I, Primrose, vow to love you as you love me, through all darkness, hardness and pain we will be strong together. I will be strong for you, you will be strong for me. I will be honest and have faith. Together, let us build a home filled with laughter and light, shared freely with all who may live there. Let us be partners, best friends and lovers, today and all of the days that follow."
"Do you Patrick Thomas Dante take Primrose Annabelle Keats to be your lawful wedded wife?"
"I do"
"Do you Primrose Annabelle Keats take Patrick Thomas Dante to be your lawful wedded husband?"
"I do"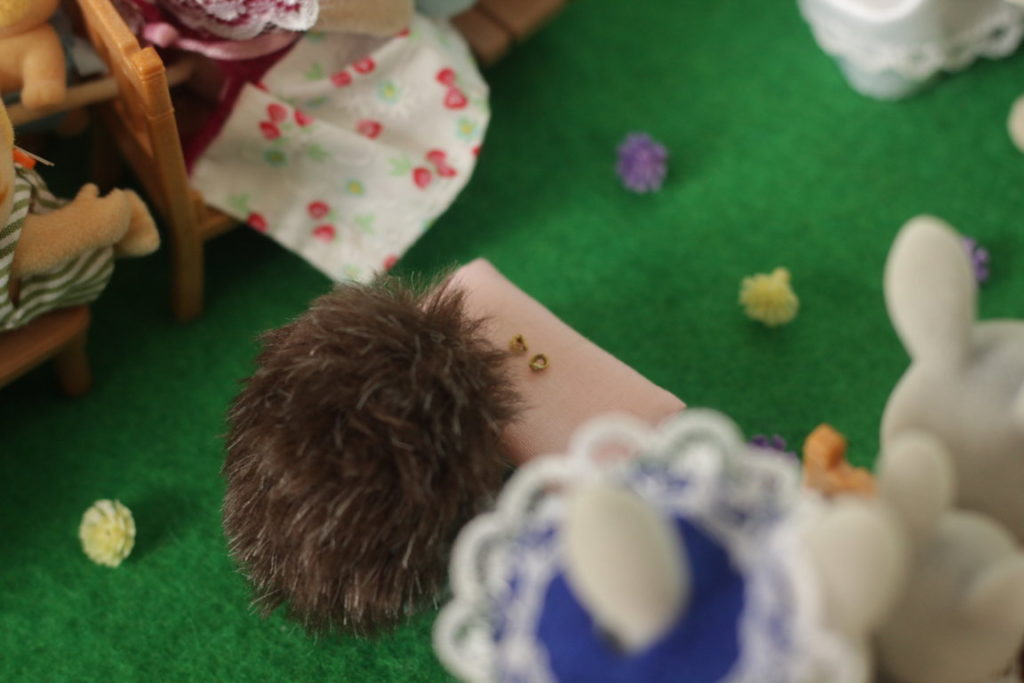 Silently, Bilberry Bramble snuck up the aisle with the rings and then handed them to Aristotle.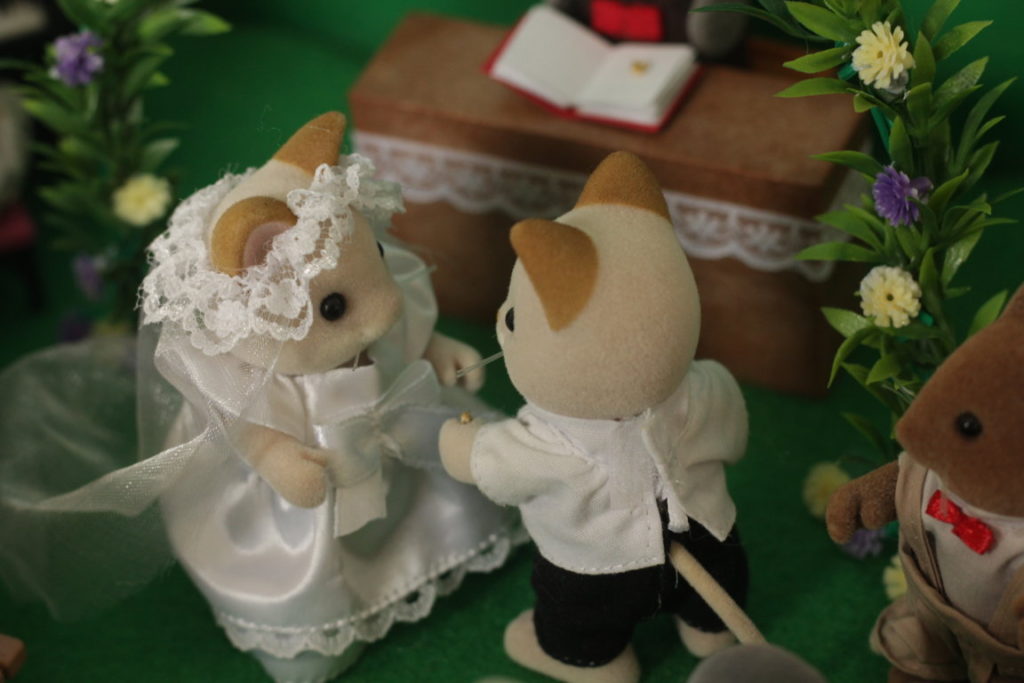 "Having this love in your hearts, we shall now seal your vows to each other by exchanging rings. A ring is a sign of completeness, they have neither a beginning nor end, much like your love for one another. Patrick, please put the ring on Primrose's hand. Primrose, please put the ring on Patrick's hand. May these rings you wear today forever remind you of your love and the promises you have made today."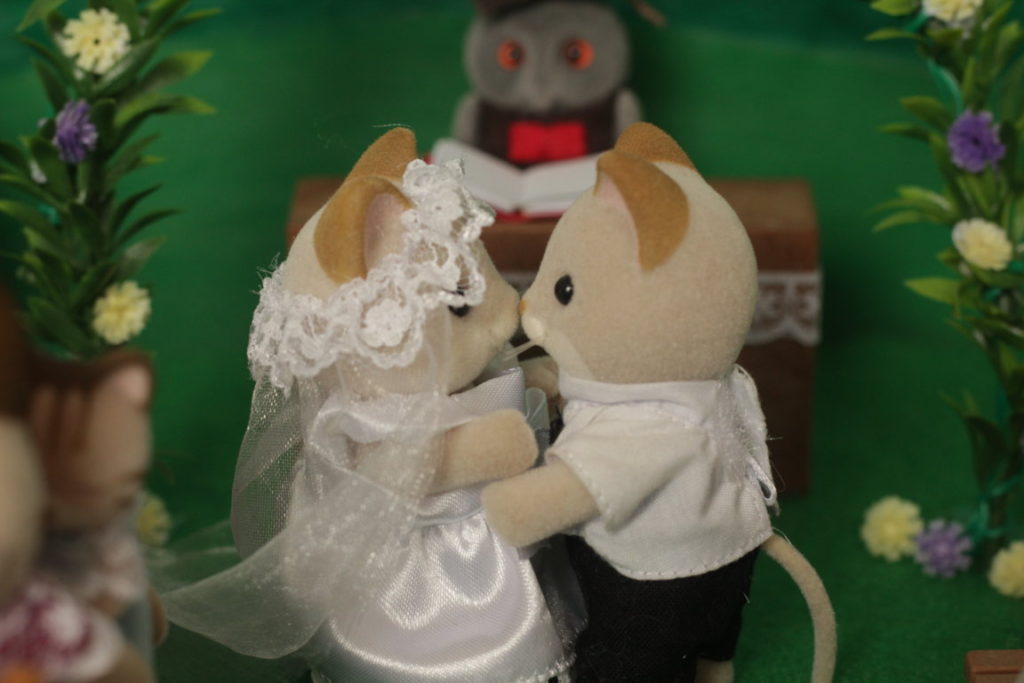 "I now pronounce you husband and wife. You may kiss the bride" Aristotle finally announced.
Patrick gently placed his hand on Primrose's waist and kissed her enthusiastically.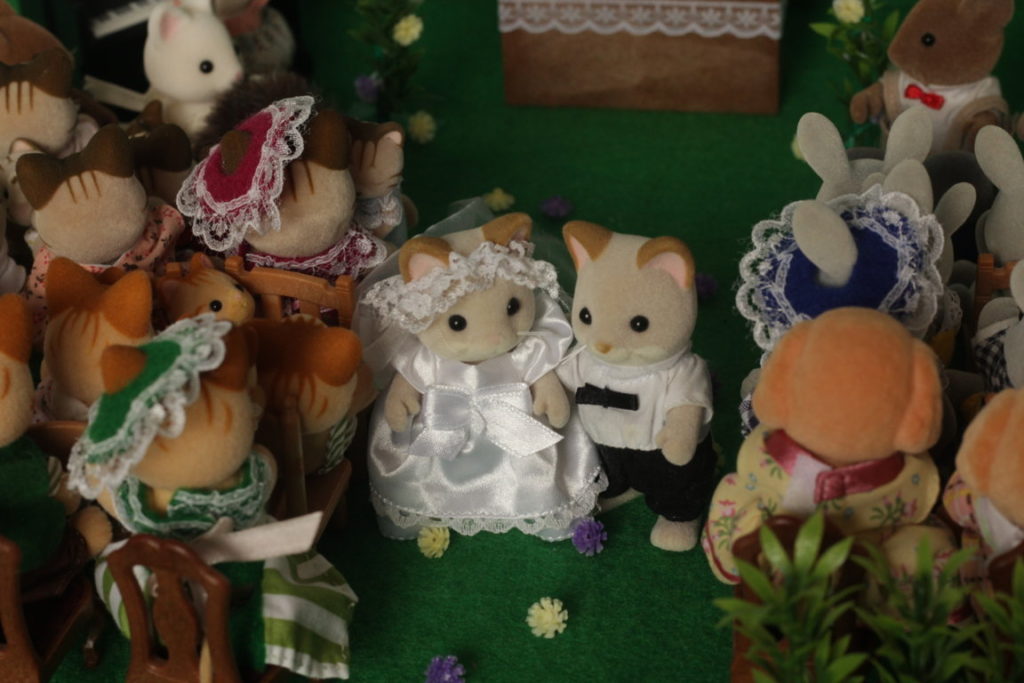 Everyone was smiling at the happy newlyweds as they walked down the aisle. Quite a few sylvanians had a few tears rolling down they cheeks, mainly the women but then again, some males were also doing their best to conceal their teary eyes.
Then it was time to cut the cake. The whole village was gathered in a nearby field where tables and chairs stood, awaiting the guests. Unfortunately, there were not enough chairs to go around but nobody complained as this was Primrose and Patrick's special day where all the attention should be on them. Therefore the sylvanians who had not gotten a seat just hovered near the tables or between them.
Alonzo Macavity brought out his special cake which this time included all the ingredients and set it on the wooded table where Patrick and Primrose were seated. They both held onto the knife and cut the cake, everyone clapped and then tucked into the delicious food Henry Hazelnut had prepared. Salads, sandwiches, fruit salad, ice cream, little savory cakes, crackers with dips, roast veggies and much, much more.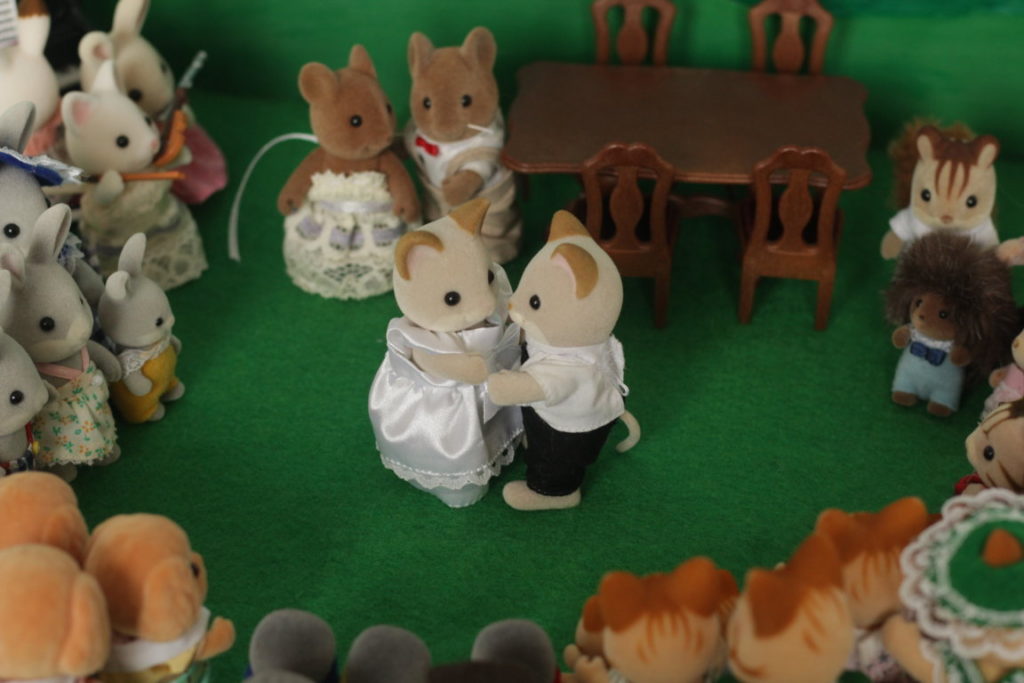 After everyone had finished, they all helped to carry away the plates and the extra tables and chairs. Primrose had never felt happier as Claire Golightly, Mimi Appleseed and Rosie Buttermilk started to play their musical instruments and Patrick led her to the center of the circle the other villagers had created for the first dance. He gently took her hand in his and began to dance with her to the rhythm of the soft music which was coming from the three girls.
"Doesn't this remind you of when we got married Elliot?" Evangeline Beaman asked her husband.
"It does darling, it does." he replied and gave his teary wife a hug.
'I will never get married' their son Eddie thought to himself as he watched his parents and the newly married couple.
'I will get married, this is so sweet' his twin sister Lucille thought to herself as she watched her parents and the newly married couple.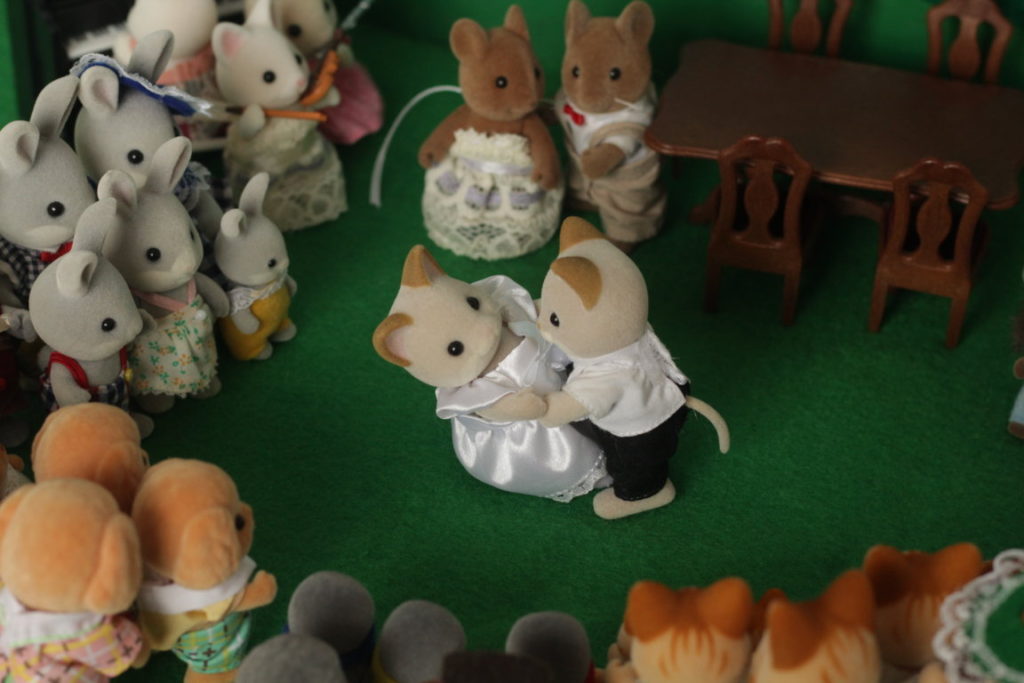 Patrick finished the dance with dipping his smiling wife when the music ended. Patrick had never seen his wife smile so much in one day and felt that the past few months which were stressful for him with all that wedding planning had been worth it as now they had their dream wedding and it was absolutely perfect.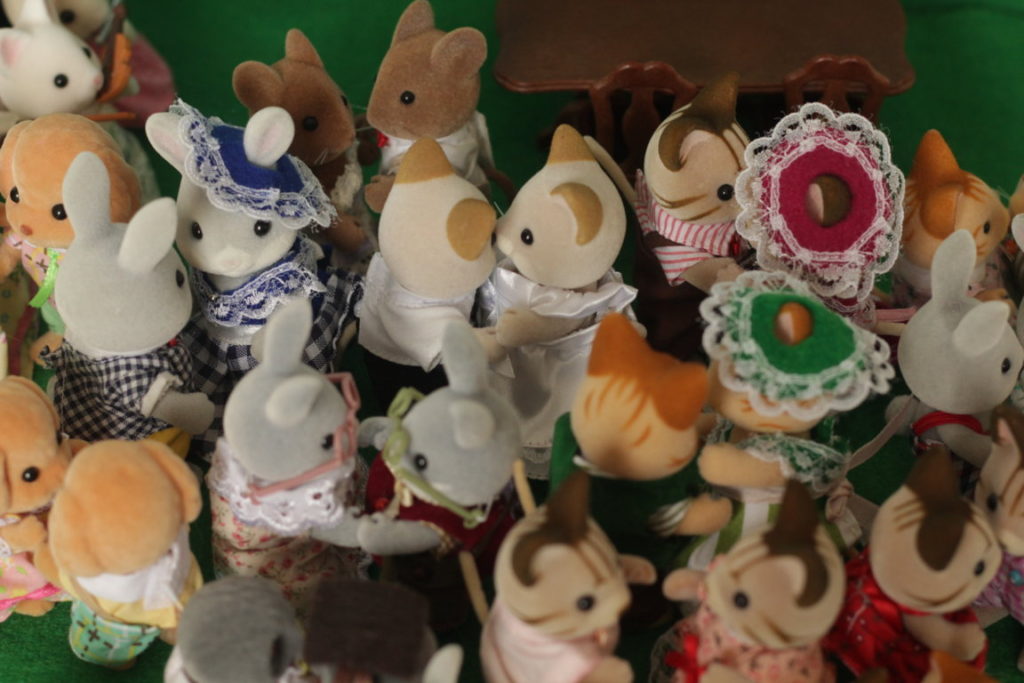 Then everyone else joined in the dancing. At first wives danced with their husbands, siblings danced with each other, but then eventually they danced with other sylvanians whom they weren't related to.
"That was really and amazingly delicious cake wasn't it?" Primrose asked her husband.
"Yes it truly was, it was much better than that one we had at the Bakery a week ago"
"How do you know about that? You didn't have any!"
"Aaaahhhm, I um, I, I assumed it would taste a lot better." he replied hopefully.
"Paaatrick" Primrose said in a tone which meant she had figured out how her cake had disappeared at the Bakery when they were meeting Melissa Cakebread. But to Patrick's surprise who was expecting a telling off, she laughed! "I wondered why you stopped asking me!" she exclaimed. Patrick decided not to tell her about how he had snuck out to the Bakery in the early morning on a few occasions.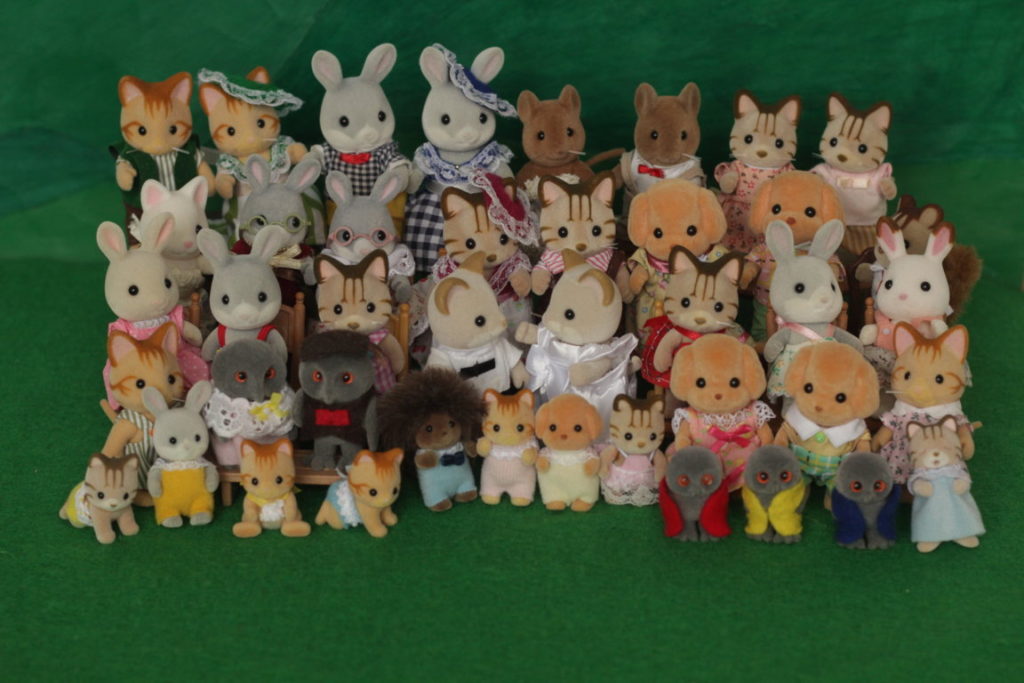 Lastly everyone positioned themselves for a photo.
"Young love" sighed the elderly Catherine Cottontail to her husband Christopher as she watched Primrose and Patrick out of the corner of her eye.
Christopher thought for a moment before replying "Love never gets old darling, love never gets old"
---
Yes, the wedding has happened! On the fourth of November 2017 Primrose and Patrick became Mr. and Mrs. Dante! Exciting! I hoped that you liked it and I will leave you with their wedding photos: