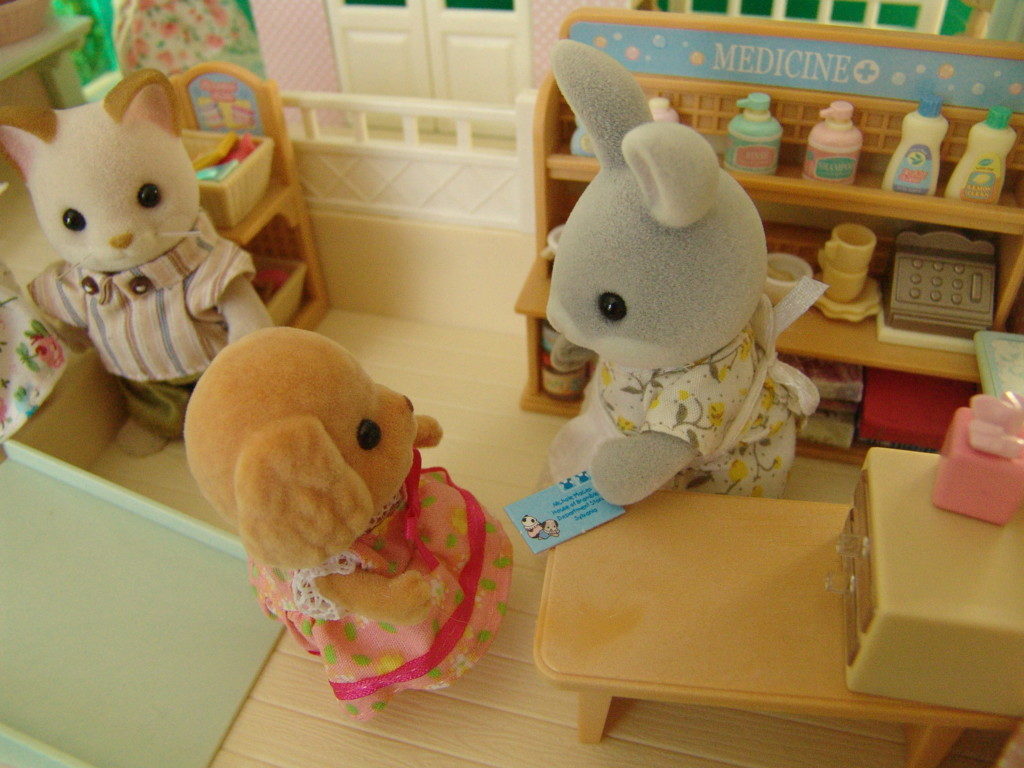 Primrose Keats had finally found her fiance who had been in the Bakery devouring a sugary doughnut. Now Primrose had dragged Patrick into the Country Market where they both saw Mrs. Cottontail tending to a customer.
"And are you quite sure she will receive this letter before next week?" Melinda Cakebread asked worriedly,
"Yes dear, I am sure she will receive the letter before then, you have nothing to worry about" Sorrel Cottontail reassured the young poodle.
"Alright, thank you Mrs. Cottontail!" Melinda called as she marched out of the shop.
"You're welcome Melinda!"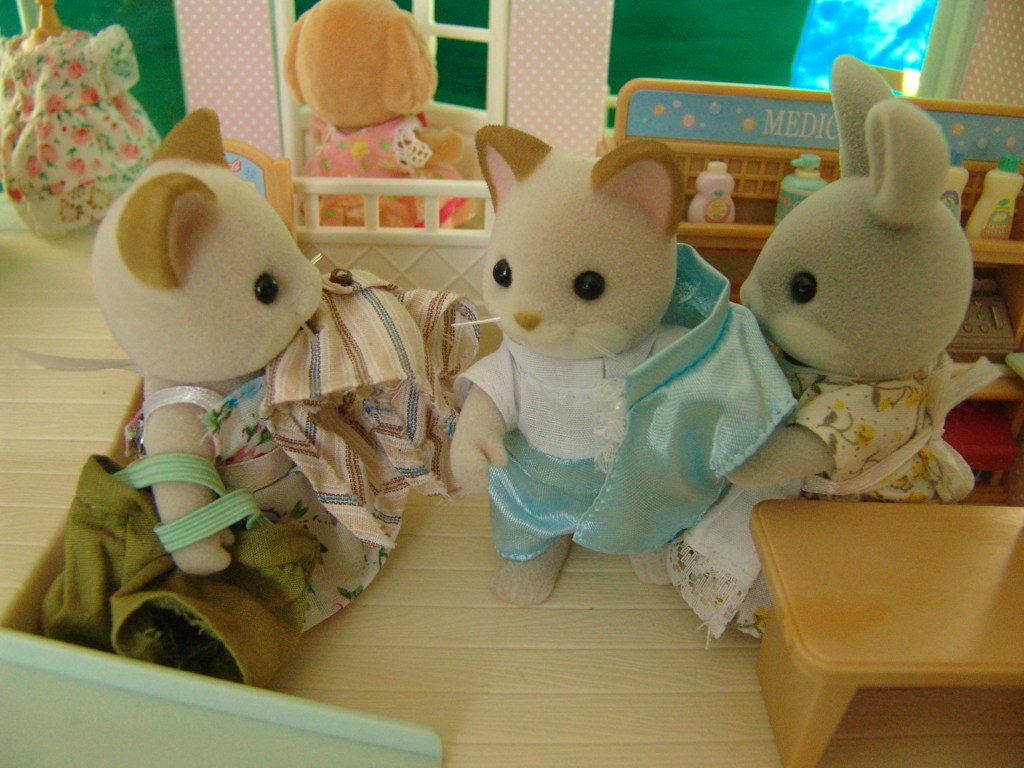 "Hello Sorrel, I am back again!" Primrose exclaimed, embracing the rabbit with a warm hug. "Now, I hear you have a fancy outfit for Patrick here?"
"Oh yes I do!" Sorrel responded and pulled out a pile of folded clothes for Patrick to try on. First the pants, then the shirt and then the jacket.
"Oh Patrick! What ever have you done to your button?! It is loose but I only fixed it last week! What have you been up to?" Primrose started fussing over the shirt. In reply, Patrick only mumbled something about a 'rogue tree branch'.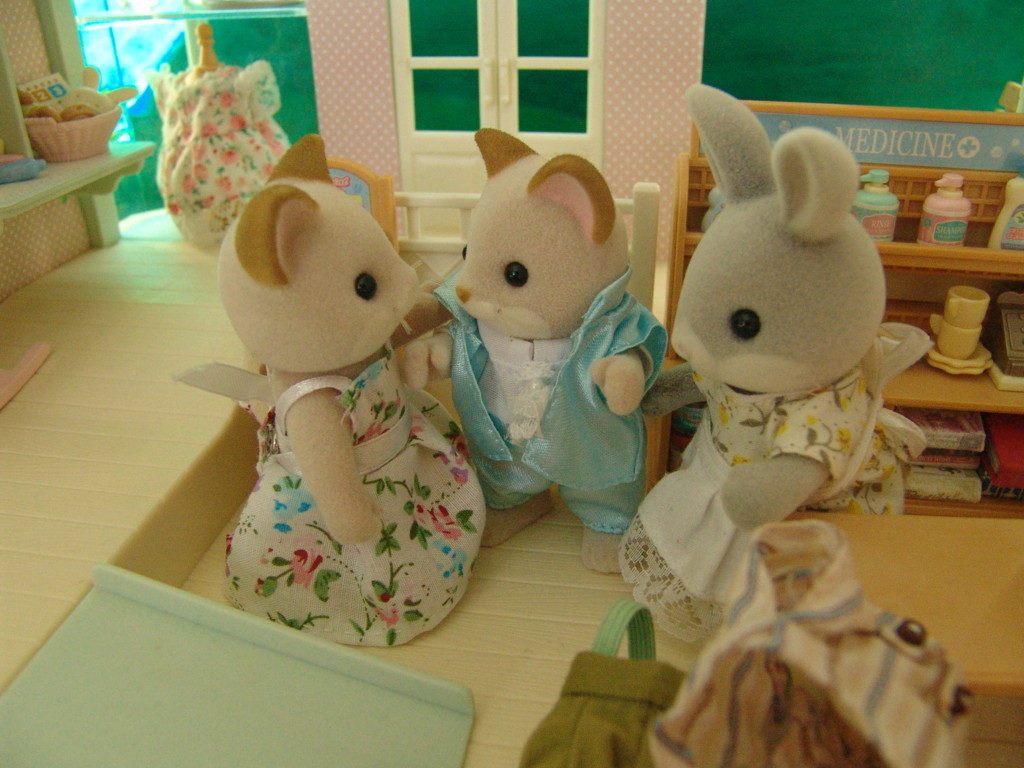 Patrick looked at himself, he was dressed in pale blue silk trousers, a crisp white collared shirt which had a bit of lace on it and a pearl button, over this was a pale, also silk,  blue jacket. He sucked his tummy in, "This is far too tight! I can hardly breathe!"
"Well if you didn't spend so much time wolfing down those doughnuts then maybe you wouldn't have that problem!" Primrose exclaimed crossly.
Patrick frowned and then scowled at his outfit, "I don't like this, I am not wearing this, it is scratchy and itchy and uncomfortable and…" he trailed off and realized he was losing this battle"And it is too tight and…. Doesn't go with our colour theme?" he finished hopefully.
Primroses heart softened at the puppy eyed look he was giving her "Alright, I guess you are right about that." she agreed finally "Get changed out of it then".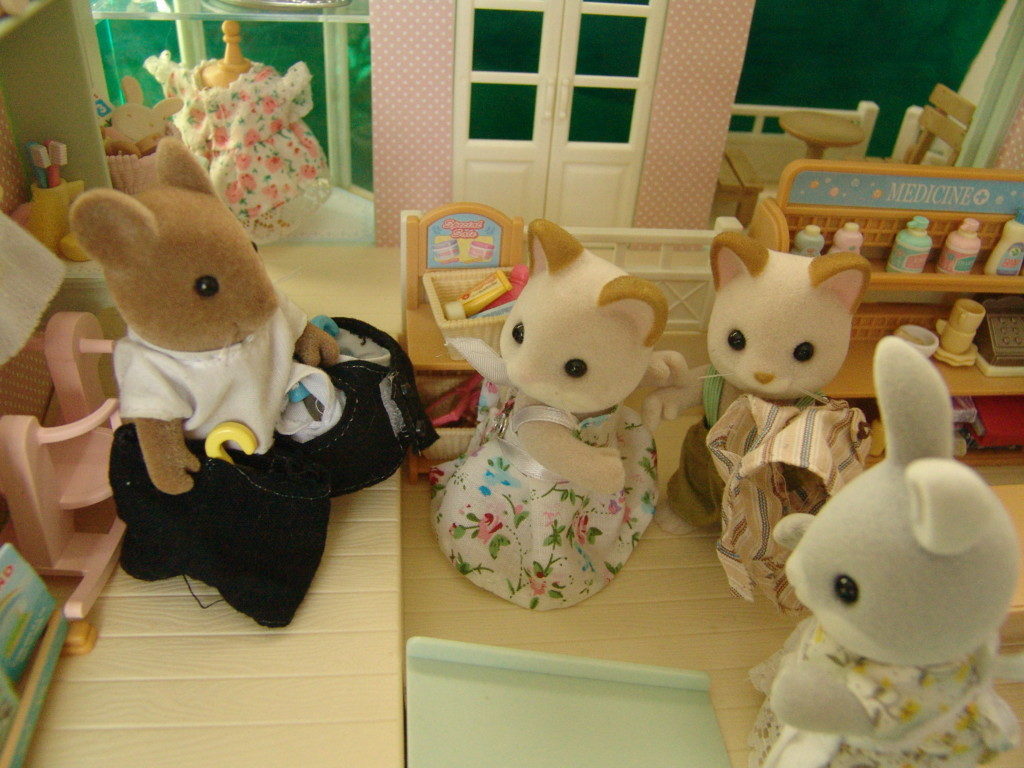 Patrick willingly got changed out of that awfully uncomfortable suit and into his comfortable cotton olive trousers.
"Well hello everyone!" Henry Hazlewood greeted the group "Here is the waiters outfit, maybe this will work for you Patrick!"
"Thank you so much Henry!" Sorrel thanked him and gave the carefully ironed outfit to Patrick to change.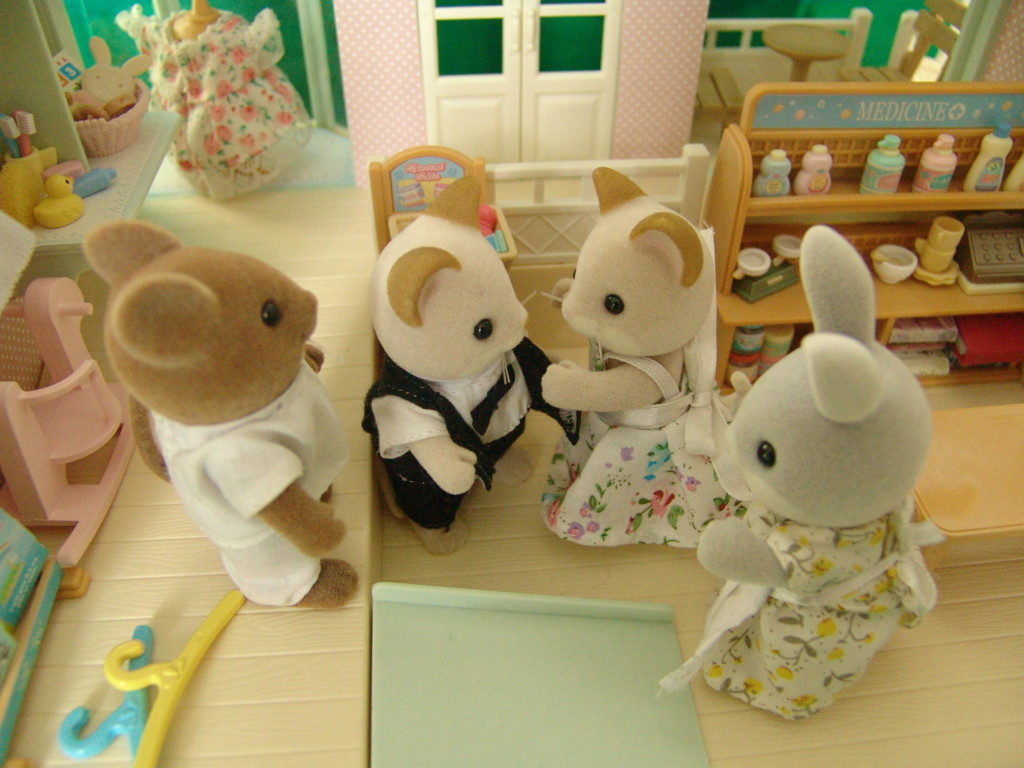 Primrose helped her husband to get onto the suit. The whole outfit was made out of a comfortable material which Patrick liked as it still looked smart but is still comfortable. He straightened his bow tie and looked expectantly at Primrose.
"No dear, take that off, you look too much like a waiter in it" Primrose flustered and pulled off the little jacket thing which she disliked.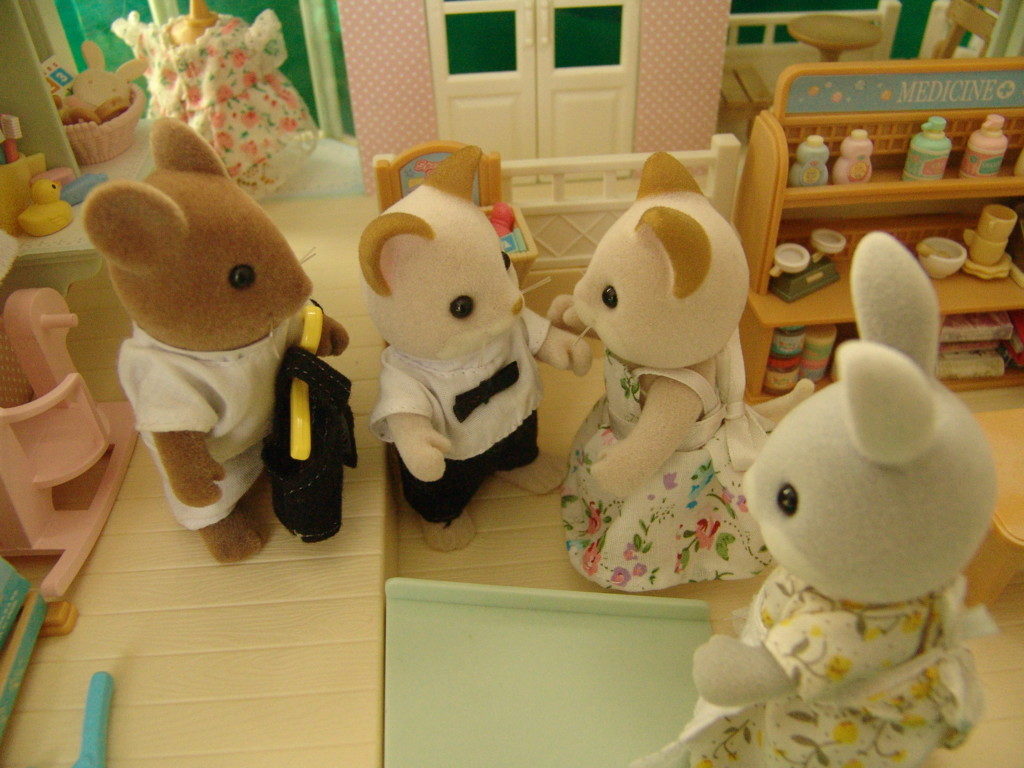 "There, perfect!"
"Yes, I like it, it is comfortable, stylish but is a little bit too large around the waist area" Patrick responded "I need to eat some more doughnuts to fill the gap!"
Primrose scowled disapprovingly at him but then her expression slowly changed into a grin. "Oh no you don't, I can tighten the waistband"
Henry and Sorrel smiled happily at Patrick who was looking quite relieved and a glowing Primrose who gave Patrick a big kiss on the cheek, making him blush slightly.
"That is the one! Thank you Henry, I will gladly wear this!"
"And it goes perfectly with our colour scheme too!"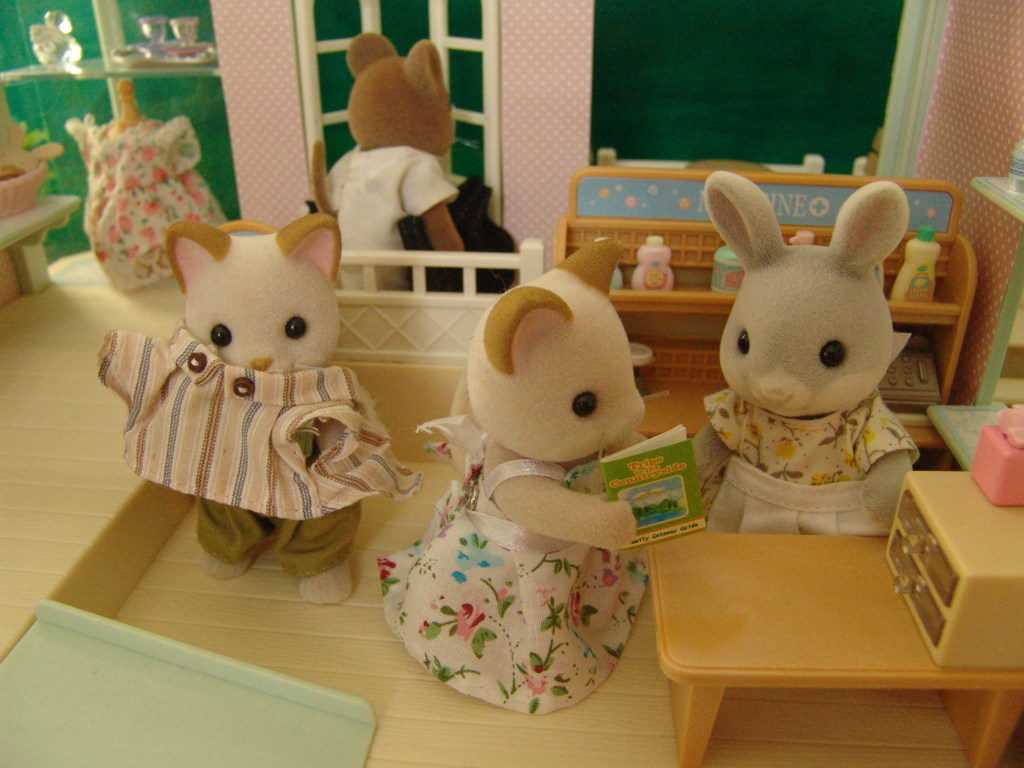 Henry hung the suit carefully onto the coat hangers and left the store. He would bring the suit to the Beaman household so that all the outfits would be in one place. While Henry was on his way to the Beamans', Patrick was getting changed and Primrose had another look in the 'Trips to the Countryside' book.
"Can I take this book with me Sorrel? I will bring it back!"
"Yes of course Primrose, here, take it!" Sorrel handed her the book.
"Thanks Sorrel! We really need to go now. Hurry up Patrick! I need to talk to Tabitha about something!"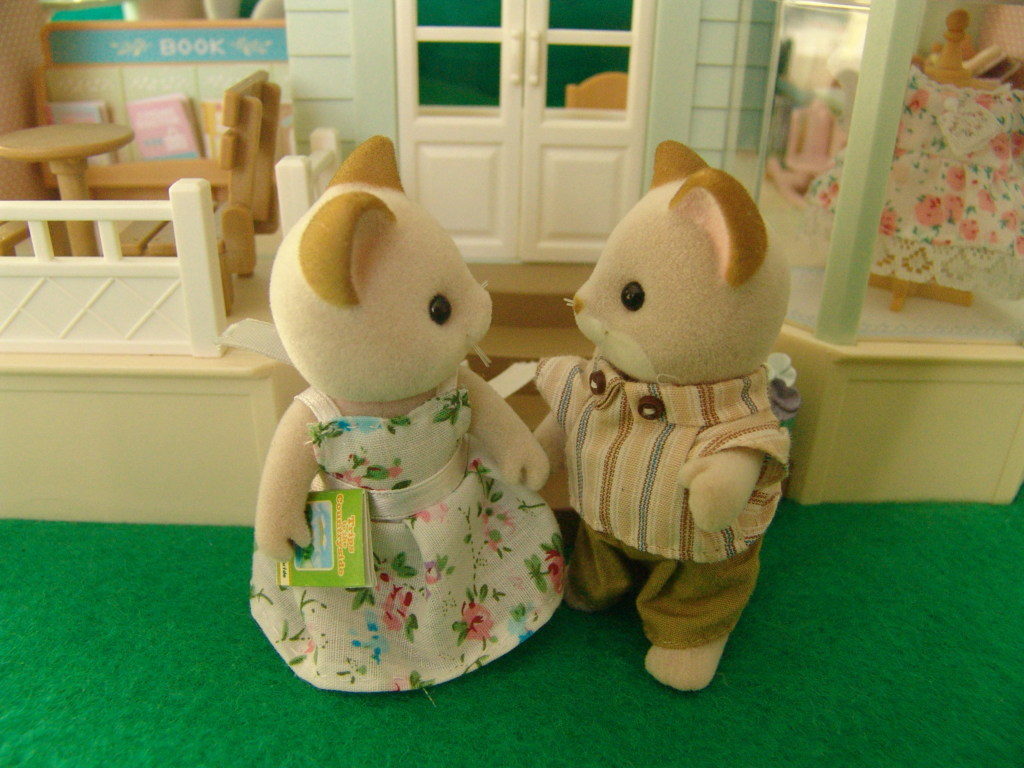 The happy couple smiled at each other as they exited the shop. Primrose held the book with one hand and Patrick's hand with the other. Their outfits were done, now they just needed to organize bridesmaids and groomsmen clothes! And, who would their bridesmaids and groomsmen be?
Too be continued…
---
Why hello everyone! I have actually been organized these holidays, (sort of anyway) and have written 4 posts and have taken photos for another 3! That should get us through this upcoming term of school when I don't have the creativity to post anything (I hope). So, how did you like the story? I think I will probably do maybe one more story in this small Wedding Series thing before the actual wedding, I still need to photograph that. I have also updated the 'Meet the Critters' page if you want to have a look.
Do you have any ideas for what they could do for their honeymoon when they get married?
Hugs, Emily
Read Patrick and Primroses arrival story:
Read the first half of this story: