*If you do not know how to crochet, I have found a simple video which clearly shows you the basic skills which is at the bottom of this post.*
This is a very simple tutorial, it only requires the knowledge of the basic crochet stitch which you can learn in seconds from the video at the bottom of this post. Crocheting is not hard and this tutorial I am doing is very easy. I decided not to add sleeves to this coat, I might do another tutorial to show how to crochet a sleeved coat
For this tutorial you will need:
Crochet hook (I recommend using a US hook size of C/2, also known as a size 11 in the UK or a 3.0 mm hook size for the rest of the world)
Wool (Not too thick but not too thin)
Darning needle though a normal sewing needle will also work
Scissors
Sylvanian figure to test measurements on
Method:
Firstly crochet a chain which wraps around the waist of your figure, then continue to crochet in the basic stitch until your piece of crochet reaches under the critters arms.
Leave a spot for the arms by crocheting a chain and then leaving a gap before connecting the chain back to the main piece using a basic stitch. Crochet back and forth until the back of the coat reaches the base of your figures head. Cut the end of the thread off, leaving around 5 cm still attached to the coat, weave this in using your needle.
This is optional, I chose to go around the whole thing with this white fluffy wool to make the coat seem a lot more warm and fuzzy. You can do this by just putting the new thread over the end of the crocheted piece and then pushing the hook through the back of the coat, hook onto the new thread and pull through, creating your staring hook. Now continue by doing the basic stitch around your coat.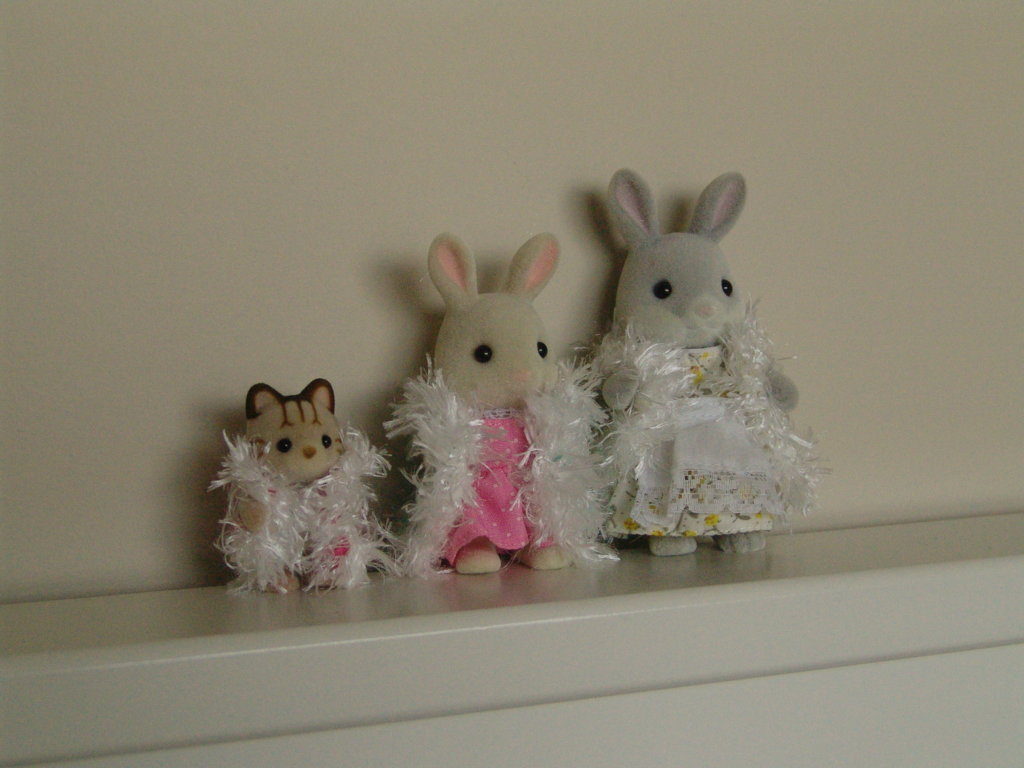 Here is a front view of the coat
Side view
Back view.
How to crochet video:
---
I wrote this tutorial a while ago and have finally decided to post it. I must admit, this makes my figures look like little Eskimos but I think it looks cute and snugly, hopefully my attempts at explaining the tutorial aren't too confusing! I haven't really been feeling sylvaniany at the moment and that is why I haven't posted for a while. I am helping Cameron Moss write his newspaper so that will hopefully be finished soon. (I have been procrastinating unfortunately). Also, I hope to post some figure descriptions and create some stories soon. I wish that your day has been good and that you are feeling positive and happy!
Emily